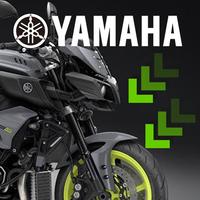 Y-ChecAR
Free Get
Y-ChecAR Description
"Y-ChecAR" is an application that is useful for Pre-operation check of your vehicle. It is
supplied by Yamaha Motor Co., Ltd.

Models compatible as of May 2016: MT-10/FZ-10

Start the application, and when the camera of your smart phone or tablet captures the
motorcycle from the side, AR will indicate the points for Pre-operation check with arrows.

Tapping the arrows displays the content for inspection, which you can use for the
maintenance of your vehicle.

Yamaha Motor Co., Ltd. does not guarantee that the application will operate on all
smart phones or tablets. When the arrows do not display automatically, the guidelines
will appear after a set period of time. Tap the SET button to match the guidelines to
your vehicle.

If anything about the content of the inspection is unclear, please refer to the Owner's
Manual or contact a Yamaha dealer.
Y-ChecAR 1.1 Update
Version 1.1 released.
More