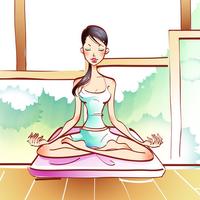 Yoga Exercise
Free Get
Yoga Exercise Description
The program has a number of Yoga poses. Each one will take only few minutes to perform. To gain benefit, it needs to be used regularly - ideally once a day for at least a month. It will help to improve flexibility, increase energy levels and create a general sense of well-being.
There is a range of difficulties with the exercises. If you cannot perform an exercise as described, leave it out. As your fitness improves, it should become more possible. Never over exert yourself during the exercises. Before starting the program, it is always important to warm up by stretching and doing light exercise to slowly raise the heart rate.
Each exercise features simple pictures showing how the pose is done and text description. Perform the exercise exactly as described. It is important to stop immediately if you feel any pain, dizziness or weakness.
Do not attempt this program if you are pregnant, immobile in any way, elderly, suffer from any general health problems or suffer from any injuries or back problems or have recently eaten. If you are not used to regular exercise and or heavily overweight it is advisable to check that you are suitable for this program with a doctor before beginning.
Yoga Exercise 1.1 Update
- Optimized for iPhone 6 & iPhone 6 Plus and iOS 8
More