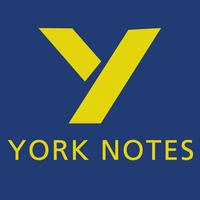 York Notes Study Guide
Free Get
York Notes Study Guide Description
All the content from our bestselling York Notes print guides PLUS new digital activities, tools and exercises to perfect your exam skills. Use our essay wizard to write brilliant essays, our quiz section to test your knowledge, create your own notes online and watch videos or listen to podcasts from teachers and examiners on how to plan and write top-quality essays.

This app not only provides a quick and convenient way to buy our revision guides straight from your phone, it also gives you access to your account in which you are able to view any digital title that you have purchased.

Written by experienced teachers and examiners, the digital editions include an array of innovative interactive revision tools to boost your studies right away.

Praise for YORK NOTES+ DIGITAL EDITIONS
"I really love the digital York Notes version I've purchased, particularly the facility to add notes" – Debbie Ward, English Teacher Barton Court Grammar School Academy.

What's more, purchase of the App brings with it a free subscription to the online edition so you can choose to study wherever you like: on the bus on your iPhone, or sitting at home working on your laptop. And you can add your own notes within the app, and have them automatically synch up next time you visit your online account.

KEY FEATURES:

- the plot summarised, with checkpoint questions to confirm your understanding
- videos/podcasts from teachers and examiners on how to plan and write top quality essays
- interactive quiz - test yourself on all key areas
- character analysis
- key themes
- structure, form and language
- interactive sample answers
- test-yourself on key quotations
- essay plans
- revision cards
- online access to our "essay wizard'
- Free web access via yorknotes.com when you buy an app from the iStore, and vice versa

ABOUT YORK NOTES

Founded over 30 years ago, York Notes is the UK's bestselling series of English Literature Study Guides.

With over 250 titles in print, and sold in over 100 countries worldwide, York Notes provide a reliable and student-friendly formula to help students achieve the best possible grades.

All the major GCSE and A Level set texts are covered by the range, which also caters to undergraduates through its Advanced and Companion series.
York Notes Study Guide 1.05 Update
Resolves podcast playback issue.
More