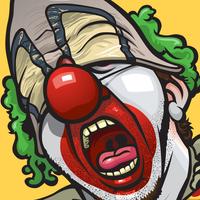 Yucko the Clown's Insult-O-Matic
Not Available
Removed
from the App Store
Yucko the Clown's Insult-O-Matic Description
(v 1.2) Added retina display and fixed the sound issue.

Now you can have Yucko the Clown as seen on The DAMN! Show, Mtv2's Stankervision and The Howard Stern Show right in your pocket!

Introducing Yucko the Clown's Insult-O-Matic. Click Yucko to hear a custom insult straight from the Clown's filthy mouth.

Got a buddy who is short, fat or has bad teeth? Select your category and have Yucko blast away! Other categories include bald guys, fat chicks, general, random and old people.

After a good zinger click the horn icon to hear a honk from Yucko's famous horn. Honk! Honk!