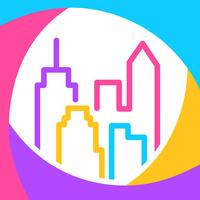 ZeeTours™
Free Get
ZeeTours™ Description
Take an adventure into the real world on a self-guided tour of the city using the power of your smartphone! Follow the tour path to a variety of points of interest, solve clues to complete CHALLENGES, and learn more about the city around you. There are ZeeTours™ in cities all across the nation, with more being added all the time!

With ZeeTours™, you don't have to worry about the walk home - our circular tour routes guide you back to where you first started. Whether you want to rediscover a city near you, learn actively on vacation or explore a new area, ZeeTours™ is for you. Download the ZeeTours™ app to start your adventure today!

FEATURES:

- Embark on a ZANY walking tour adventure through the city!

- Visit historic LANDMARKS, RESTAURANTS, PARKS, MUSEUMS and more!

- Complete COMPASS CHALLENGES to navigate to specific points of interest!

- Strike a pose in themed PHOTO CHALLENGES to create a lasting memory!

- Test your knowledge with TRIVIA CHALLENGES about city history and more!

- Learn FUN FACTS and local history along the way!

- Our CIRCULAR ROUTES make finding your way back easy!

- Share your experience to social media and be sure to tag #ZeeTours!

- Enter WORLDWIDE CONTESTS to complete against other to win prizes!

Bring your friends and family along for the fun! It's like a scavenger hunt throughout the city, packed with activities and challenges for everyone to enjoy.

NO TOURS NEAR YOU?
Check out the new Contests tab where you can participate to complete trivia and photo challenges and compete against others. Play anywhere! These contests are not tied to specific locations and can be played from anywhere. Win prizes! Enter for a chance to win ZeeTokens and other prizes! The Top 3 players with the most points on the leaderboard at the end of the contest wins.

Visit our website for more information, including links to each of our tour as well as our Privacy Policy and Terms of Service.
http://www.ZeeToursApp.com/

TERMS OF SERVICE
http://www.ZeeToursApp.com/terms-of-service.html

PRIVACY POLICY
http://www.ZeeToursApp.com/privacy-policy.html
ZeeTours™ 1.1.65 Update
WORLDWIDE CONTESTS
- No tours near you? Check out the new Contests tab where you can participate to complete trivia and photo challenges and compete against others.
- Play anywhere! These contests are not tied to specific locations and can be played from anywhere.
- Win prizes! Enter for a chance to win ZeeTokens and other prizes! The Top 3 players with the most points on the leaderboard at the end of the contest wins.
More
More Information
In-App Purchases:

Mini ZeeToken Pack $4.99

Balboa Peninsula Tour $24.99

Downtown Boston $24.99

Gaslamp Quarter $24.99

Old Town San Diego $24.99

Loring Park District $24.99

Downton Seattle $24.99

Downtown St. Louis $24.99

Shepparton Beginnings Tour $3.99

Historic House Walk $24.99

More