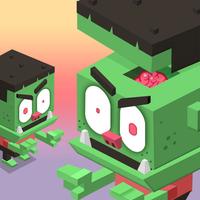 Zombie Bricks
Not Available
Removed
from the App Store
Screenshots for iPhone
More Screenshots for iPad
Zombie Bricks Description
[Tips]
- Make sure to UPGRADE YOUR SKILLS BEFORE YOU PLAY each round!
- Don't worry if you die. The LEVELS ARE NOT CLEARABLE BY DESIGN.
- The goal is to ACHIEVE THE HIGHEST POSSIBLE SCORE before you eventually die.
- The gameplay continues endlessly until you die.

Zombie Bricks is a new type of game that combines brick breaker and defense. Control sports heroes to hit the balls at zombies to destroy them. Zombies will drop items when they're destroyed – collect them to get stronger. Don't forget to destroy the zombies before they reach the bottom of the screen as it will mean ROUND COMPLETE!

Save the World from the Zombies
All kinds of zombies are approaching the last line of defense that your heroes are protecting. They launch cannons and even throw their own body parts at you and explode themselves. Dodge those zombie attacks by moving left and right and hit the balls at them to destroy them.

Various Sports Heroes
Hun the tennis player, Sarah the hockey player, Gray the baseball player! The sports heroes of the world before the zombie invasion are now rising to take the world back from the zombies.

Upgradeable Items
Get coins for destroying zombies and use them to upgrade items and unlock new characters. As you upgrade your items, your heroes will become that much stronger. You'll unlock more items as you play higher through higher levels, allowing you to play more dynamically.

Strategic Battles
How you destroy a zombie will determine the points you earn. More bounces of the ball, multi kills and close-by kills will all award you with extra points.

Powerful Bosses
You'll encounter powerful bosses as you play along with killing zombies. These bosses are capable of using powerful skills and have loads of HP, making them so much tougher to kill. They also reward you with extra points and items, making them that much exciting and rewarding to destroy.

Cute Graphics
Despite being a zombie game, the zombies and characters in this game are so cute. Don't be fooled by the adorable box-shaped zombies as they will eat you up the moment you show your weakness.
Zombie Bricks 1.1.4 Update
Bug fixes and performance improvements
More