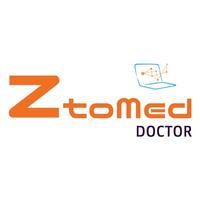 ZtoMed Doctor
Free Get
ZtoMed Doctor Description
ZtoMed is an App created and developed by Ztoid Inc. ZtoMed is an interactive scheduling
application for Patients and Doctors of any denomination. Patients can search for Doctors
either by name, location or specialty (Cardiologists, Nephrologists etc.). Thereafter, patients can
schedule a video call with the Doctor or an in-person office visit. The scheduled video call is charged
per minute with rates predetermined by each Doctor. We (Ztoid Inc.) receive 10% of the total
charge with 90% going to the consulting Doctor. This App makes the scheduling and consulting
with the Doctor an easy and seamless process. ZtoMed also has a unique feature called "Golden
minutes", which in our opinion will be a life-saving feature. In an emergency, Golden Minutes
can connect to an "on-call" emergency Doctor who can direct and guide a willing-to-help
bystander perform CPR or the Heimlich maneuver, just as an example.
ZtoMed Doctor 2.3 Update
~ Pesky bugs are exterminated
More