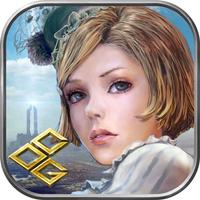 守護者 Creed Of Guardian
Not Available
Removed
from the App Store
守護者 Creed Of Guardian Description
"Creed of Guardian" is a strategic and card collection mobile game developed by Hong Kong development team APPS1010, is officially launched. Scripts, characters, and game programming of the game are all created by the local team.
Backgrounds
During the 200 years of rule, the Artos Kingdom goes from prosperity to decline with ceaseless disputes between dukes and courtiers. Resource scramble and sporadic wars lead to destitution among the people. After the death of the late King "Artos VI", Charlotte Artos, the ten-year-old princess, is elevated to be entitled as "Artos VII". With the young monarch ascending the throne, power struggle becomes worse, and the situation is more chaos. Civil war can be triggered at any moment. The main character is born in war era and accidentally joins the "Guardian", carrying the responsibility of guarding the kingdom.

Features
Original Conception of World
Story setting of "Creed of Guardian" is created with all efforts by the development team. Dialogues of the characters are passionate and also hilarious. 100% original is guaranteed.

Fabulous Card Characters
Characters in "Creed of Guardian" are drawn by local illustrators, and there are over 50 characters and 300 cards with exquisite and vivid illustrations for you to collect.

Turn-based Team Battle
The game is turn-based battle with cards of different skills and nature, and with the judgment and indication of the player, the battle can be more efficient.

Innovative Skills-switching System
"Creed of Guardian" has a breakthrough on skill system. Rare cards are possessed with multiple skills and the combination can be switched at any time to cope with different battles.


Battle in PVP
The PVP runs and calculates every day. Compete for throne of the best player and obtain the rich ranking reward.
Website: http://creedofguardian.com/
Facebook: https://www.facebook.com/守護者-COG-543741395782716/
"Creed of Guardian"is a free APP to download and experience without any charge.
Data communication (3G, 4G, or Wi-Fi) is required for updating and experiencing (when using network service, you might be charged with data communication fees according to your contract with related business).
The game is free-to-play. Some virtual items are charged for fees and can access to special functions and items to forward the game progress.
The "Gem" in the game will speed up the progress of the game. The acquisition methods are to earn or purchase in the game.
We do not provide support or compensation service for non-recommended mobile devices.
The story of "Creed of Guardian" is fictional. Any resemblance to any person, organization, or event is purely coincidental.
守護者 Creed Of Guardian 2.0.3 Update