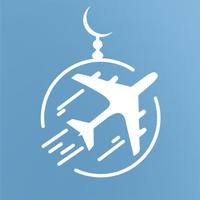 السفر الحلال
Free Get
السفر الحلال Description
تطبيق السفر الحلال هو المرجع الأول وصديق المسافر المسلم حول العالم.

تطبيق واحد يجمع لك كل احتياجاتك اليومية من مواقيت الصلاة ، اتجاه القبلة ، البحث عن المساجد ، بالإضافة إلى الأدعية الإسلامية وفئات الأذكار المختلفة ( بعد الصلاة - أذكار الصباح والمساء ) ، تم تجميعها بعناية من قبل العديد من الأئمة والكتب الإسلامية الموثوقة

احجز فندقك الان .. واختر من قائمة فنادق لا تقدم الكحوليات ، وأطعمة معدة طبقاً للشريعة الإسلامية ، وبها مساجد للصلاة ، ومرافق منفصلة للنساء في الهواء الطلق ( حمام سباحة - أماكن للاسترخاء ). وتمتع بخدمات السفر الحلال للمطاعم .. قائمة من أجود المطاعم تقدم أطعمة معدة ومطهوة طبقاً للشريعة الإسلامية.

Halal Travel App is the 1st reference & best friend for Muslims travelers world wide.

Touch to browse, search, booking hotels or flight, prayer times, Qibla, Du'aa, City guide and audio guide.

Touch to find nearby Mosque. Touch to make easy trip with "Halal Travel".

Whether you are planning to travel for holiday or business, or just want to explore the city where you live, Halal Travel will make it easier, fun and engaging.

You will enjoy using some of the features:

1- One application brings together all your everyday need (prayer times, Qibla direction, find mosques), in addition to Islamic Du'aa and different categories of Azkar (after the prayer, reciting of morning and evening) has been carefully assembled by many imams and reliable Islamic books.

2- Book your Hotel now ... and select from the list of Hotels not serve alcohol, and food prepared in accordance with Islamic sharia, mosques to pray and separate places for women in the outdoors ( swimming pools - places to relax ). And also enjoy Halal travel services for restaurants... List of the best restaurants serve cooked foods which are prepared in accordance with Islamic sharia.

3- One of the most disturbing cases while traveling is how to communicate with other people, Cultures, how using their language. Through audio guide you can communicate with them simply! you Need it when to ask or tell someone about something for example Hotels, destinations, archaeological features....etc. "Halal application" was prepared lists containing most common sentences that represent the urgent need during trips. Select the sentence and Halal will pronounce it to you.
السفر الحلال 2.2 Update
- تحسين أداء التطبيق
- حل بعض المشكلات
More
More Information
Language:

Arabic

English

More