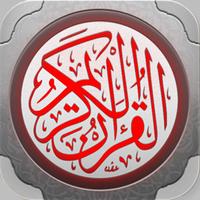 القران الكريم : ماهر المعيقلي
$4.99
Screenshots for iPhone
More Screenshots for iPad
القران الكريم : ماهر المعيقلي Description
البرنامج الوحيد الذى لا يحتاج الى الانترنت و ليس روابط و انما كامل و بنقاء عالي للصوت
جودة عالية جدا ووضوح رائع في الصوت دون الحاجة للانترنت لا يمكن ان تجده في تطبيق اخر
هذا التطبيق يحتوي على القرآن الكريم كاملا بصوت الشيخ ماهر المعيقلي.

هذا التطبيق يحوي العديد من الميزات:
١- قائمة كاملة لجميع السور للقرآن الكريم يمكنك اختيار من خلالها للاستماع للسورة التي تريدها و القارىء ايضا
٢- تستطيع اخفاء التطبيق مما يجعلك قادرا على العمل على التطبيقات الاخرى
٣- و من المميزات المهمة جدا انه تستطيع الاستماع للقران حتى بعد و ضع الهاتف في حالة الاغلاق مما يحافظ على الجهاز و بطاريته
٤- لا يحتاج البرنامج الى الانترنت و بهذا تستطيع الاستماع للقران الكريم دائما
والعديد من الميزات الأخرى ...

تطبيقاتنا الرائعة للاطفال و العائلة و التطبيقات الاسلامية موجودة على هذا الرابط
https://itunes.apple.com/us/artist/nayer-abu-soud/id534029583?mt=8

الرجاء اذا قمت بشراء هذا التطبيق ان تقوم بالتصويت له... Please Rate our APP thank you very much .
و الله ولي التوفيق

=========================================================================

This App Contains the complete Holy Quran , with Shaykh Maher Al-Muaiqly as reader

this app has many Features :
-complete list for the holy Quran you can select from to play
-This app has the ability to play even if the phone goes to sleep
-and many other features...
-No Need For internt the complete Quran stored at your device.
القران الكريم : ماهر المعيقلي 1.5 Update
تحسين اداء البرنامج -
.دعم الاجهزة الحديثة -
.دعم ساعة ابل -
Improve program performance -
Support of new Devices-
Support Apple Watch -
More
More Information
Language:

Arabic

English

Indonesian

Turkish

More