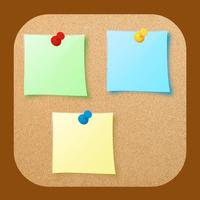 لوحة الملاحظات
Free Get
لوحة الملاحظات Description
لوحة الملاحظات .. برنامج مميز بواجهة رسومية مبسطة لكتابة ملاحظاتك وتنظيم مهامك اليومية. يتميز البرنامج بسلاسة الأداء وسهولة الإستخدام حيث يساعدك على ترتيب المهام وتذكيرك بها في وقتها.

مميزات البرنامج:
- واجهة رسومية مبسطة للملاحظات.
- بإمكانك اختيار لون كل ملاحظة حسب الحاجة.
- إمكانية تكبير وتصغير الخط في الملاحظات.
- خاصية ضبط المنبه لكل ملاحظة, للتنبيه بها في وقتها.
- إلغاء أي الملاحظة ببساطة عبر ضغطة مطوّله على الدبوس.

Panel note is a simple app to organize your daily tasks and notes. It features the ability to set alarm and change the font size of each note.

Features:
- Simple interface to write up notes.
- Ability to choose a color for each note.
- Setting an alarm for each note.
- changing the size of the font.
- Deleting a note is as easy as one long press on the pin.
لوحة الملاحظات 1.2 Update
- IOS 9 إصلاح مشكلة الكراش في نظام
More