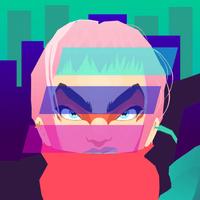 3EALITY: SciFi Platform Runner
Free Get
3EALITY: SciFi Platform Runner Description
3EALITY is a challenging indie platformer and endless runner, set in a cyberpunk world, in which you control protagonist Meta in 3 parallel universes simultaneously. Face the different obstacles and dangers in each of the realities and stay alive as long as you can. It's basically multitasking in the multiverse!

The year is 2155. Reality hopping is now possible. Superbeing Meta is part of an underground rebellion group called "Flux", which plans to overthrow Intellegion – an evil government corporation that has taken over the world. On her way to a Flux meeting, Meta is captured by Intellegion soldiers, who torture her to find out Flux secrets. Whilst held captive, she uses her unique ability to connect with her alters - versions of her in different realities - to warn them and ask for their help in defending against Intellegion.

In this sci-fi runner game you need to control Meta's alters in 3 parallel universes simultaneously. You will be running along the rooftops of a dystopian, cyberpunk city and face different obstacles in each of the realities. The aim is to stay alive in as many of them as you can, for as long as possible. When you jump or attack, you do so in all 3 realities, so the main difficulty is keeping an eye out for danger on all three different platforms.

Think you're up to the multitasking challenge? Then start running and try to keep everyone alive as long as possible in this challenging platform runner.

▶ An original adventure set in a futuristic cyberpunk world
Meta has used her unique abilities to connect with her alters in an attempt to warn them and ask for their help. Use the simple run, jump and attack gameplay to guide them over the rooftops and collect energy to power their electromagnetic pulse as well as various power-ups (Shield, Anti-Gravity and Shock) along the way.

▶ A unique indie entry in the runner and platforming genre
3EALITY is the perfect game for those looking for a twist on classic platform games and runner games. When you start running, your screen will split into 3 different realities. Tap on the left of the screen to attack and right to jump, but remember that when you jump or attack, you do so in all 3 realities!

▶ The perfect game for those looking for a challenge
Whether you are an avid gamer who is always on the lookout for difficult games, a multitasking champion, or a casual gamer who simply feels up to the challenge, 3EALITY is the game for you! Do you think you have what it takes to successfully face all the obstacles and keep everyone alive in this challenging multitasking game?

▶ New "De Ja Vu" system allows you to revive Meta's alters
Our latest update brings many gameplay improvements and new features. Collect energy to build up the "De Ja Vu" power bar and allow Meta to revive her alters should they fall during the mission. Besides this, the update introduces a new power-up timer, an improved obstacle warning system, and the ability to save alters when you keep everyone on your screen alive!

So, what are you waiting for? It's time to multitask in the multiverse! 3EALITY is a unique sci-fi adventure perfect for those who love futuristic, dystopian settings and are looking for an original take on classic runner games and platform games. We hope that you will enjoy it and be sure to keep an eye out as we will add new features and content in regular updates.

Who are we?
Handprint Games is a small indie game developer based in Glasgow, Scotland. It endeavours to create fun and immersive original games that can be enjoyed by casual and avid gamers alike. With our small but dedicated team, we hope to leave our handprint on the ever-growing world of gaming.

Want to know more?
Then follow us on social media (@handprintgames), drop us an email on info@handprintgames.com, or visit our website, where we regularly update our blog: handprintgames.com/.
3EALITY: SciFi Platform Runner 2.0 Update
FLUX REBELLION UPDATE 2.0:
"After an extended period of testing, our "De Ja Vu" System is now fully operational. This means that - so long as she has collected enough energy - Meta can now revive her alters should they fall during the mission. Besides this, we have equipped her with a tool that allows her to track how many alters she has been able to save across all the different realities. This tool, however, is only functional when all 3 of the alters active in the mission are still alive.
With these groundbreaking developments and your help, we can reach a turning point in our continued rebellion against Intellegion. Are you ready?
End Transmission."
More