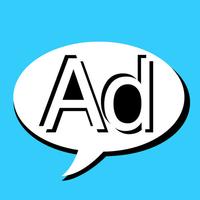 Advertisement
$0.99
Advertisement Description
ADVERTISE, SHARE, INVITE, REACH, ALERT & NOTIFY
A professional marketing tool in your pocket!
Send group SMS texts, rich E-Mail ads with images & HTML
Target groups, Contacts & import from .CVS, .TXT & .RTF
Advertisement is:

VERSATILE
All your followers, friends, clients, users, players, voters, party or fundraiser guests, people on your mailing list, people who depend on you to alert or inform them – now you can contact them all, at a moment's notice, via SMS texts or rich E-Mail, right from your iPhone.

RICH
Get your message across and increase the recipient's retention rates with rich E-Mail ads composed with no just text but also links, clickable images, and even your entire HTML Website. Increase your campaign coverage and texting delivery speeds with SMS ads.

SCALABLE
With advanced batch queueing mechanism, Advertisement is optimized to take full advantage of your iPhone performance and allow you to contact significantly more recipients - quicker. Want to target a specific group? Send a mass invite to your Contacts? With Advertisement, it's simple. You can even import structured recipient's contact information from .CSV, .TXT and .RTF files!

CONVENIENT
Thanks to the Campaign Widget, your most recent Campaigns are always easily accessible from the App icon and in the Today View. To make sure a scheduled Advertisement Campaign goes out exactly as planned, you can add specific Notes and be notified about it repeatedly at given time: weekly, monthly or once a year.

PERFECTED
We have some great new features still in the works, but we also want to hear from you: what do you need? What would make your ad-related work easier? Advertisement is all about successful communication with your desired audience. All ideas are welcomed on our website.
Advertisement 1.1 Update
+ Widget - Your most recent Campaigns are now easily available in the Today View & from the App icon.
+ Import Local Files - HTML pages or .CSV, .RTF, .TXT Contact lists can now be imported from other apps like Mail.
+ Batch Import - Import Contact lists into multiple Recipient Groups at once.
+ Notifications - Never forget to send out a scheduled Advertisement with repeating, rich Campaign Notifications.
+ Notes - Store key information about Recipients, Ads & send-out details within the Campaign itself.
+ Improvements - Interface & experience made even better for your pleasure.
More
More Information
Language:

English

Polish

More