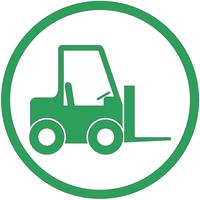 AGRIS Warehouse
Free Get
Screenshots for iPhone
More Screenshots for iPad
AGRIS Warehouse Description
The AGRIS Warehouse app helps agri-business warehouse team members get more done in less time. This app is specifically designed for companies using the AGRIS system to run their business. The AGRIS Warehouse app enables mobile, real-time access information in order to enter delivery tickets, check customer and inventory balances. This allows the team member to get more done quickly when working with the customer in the warehouse.
AGRIS Warehouse 1.3.0 Update
1) Shipment > Posting: Display Delivery Ticket number on "Ticket saved successfully" confirmation screen (SHP-344). This maximizes ability to assure person using the mobile app that the Shipment created a Delivery Ticket in AGRIS. It also minimizes time to move to the next shipment or action if email isn't setup or working.
2) Shipment > Customer: New "Change" button to the right of the "Ship To" Name (like "Bill To") (SHP-256). This reduces time and effort to change the Ship To Name. It also simplifies the process of changing Ship To Name while retaining the Bill To Name.
3) Shipment > Customer: Retain selected items when changing Ship To or Bill To customer (SHP-314). This reduces time and effort to change the Ship To Name and resume the Shipment after selecting the items.
4) Security - pass only the necessary levels to verify security upon login based on AGRIS System Security setting (INV - General Options - Import Item Barcodes & Import Delivery Tickets) (SHP-252). This minimizes time and effort to setup and manage security for the app.
5) Settings - location search option (SHP-289). This reduces time to select or change the location.
6) Settings > Select Name Id Type Range: ability to limit search of customers by Name Id Type range (SHP-356). This reduces time and effort to find customer names and improves the accuracy of selecting the correct customer.
7) Fixed a few minor bugs.
For more information, check out https://culturatech.atlassian.net/wiki/x/CIB9N.
More