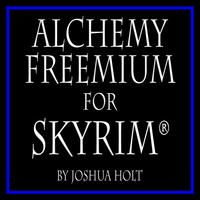 Alchemy Freemium for SKYRIM® by Joshua Holt
Free Get
Screenshots for iPhone
More Screenshots for iPad
Alchemy Freemium for SKYRIM® by Joshua Holt Description
A Recipe Planner has been added. Now you can select all or some ingredients and generate a list of all the available recipes using those ingredients. This list can also be filtered by effect. Check out the Support link to view demo/instructional videos.

A Recipe Book has been added. Now you can save and load your recipes.

The Recipe Planner and the Recipe Book are unlocked by purchasing the Premium Upgrade in-app.

The Skyrim Alchemy App helps you create potions and poisons with the exact effects you're looking for. Great for new characters who don't have very many discovered effects and older characters who need to fill out their in-game alchemy list.

Visit the support link to view the demo video, leave feedback, or contact me if you need app support.

• Use the Ingredient tab to create potions with only the effects you want.

Instructions:

Select the base ingredient you would like to use. The potential results are listed in the result field and the list is filtered to show only ingredients which create valid potions. Select a second ingredient with the effect you want and the resulting potion is displayed in the results field. The list is filtered again to show only ingredients which will add a new effect to the potion. Select a third ingredient and the result of your finished potion is displayed in the results field. Select any of the previously selected ingredients to remove the last added ingredient from the selected list. Press the save recipe button to go to the save screen and give your recipe a name. Press the load recipe button to view your recipe book and load one of your recipes.

• Use the effect tab to view a list of ingredients by the desired effect.

Instructions:

Select the effect you would like to make and row will expand to show all ingredients with that effect. Select an ingredient and the table will re-filter to show all the effects for that ingredient. Select an effect to expand the row again and then select an ingredient to create a basic potion. The table will re-filter a final time to show any other possible effects.

• Use the planner tab to select all the ingredients you have on hand and generate a database with all the possible potions made from those ingredients.

Instructions:

Use the select all toggle to select all ingredients or select all the ingredients you want to use. Press the submit button to generate a database. You can then filter that database to show recipes that have the desired effects. Press the recipe button to show the final database. You can then select a recipe.

---Note---
ZeniMax Media Inc. does not endorse, promote, or warrant the accuracy or quality of the products or services offered by Joshua Holt. THE ELDER SCROLL® and SKYRIM® are trademarks owned by ZeniMax Media Inc.