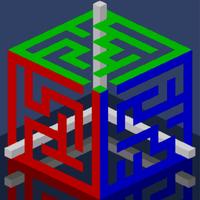 Amazing Cube Maze
Free Get
Amazing Cube Maze Description
Cube Maze is an addictive and surprisingly relaxing puzzle game for the iPhone.

The goal of the game is to guide the crossbar out of the three-dimensional cube maze. The cube consists of three facets with a maze on each one of them. To solve the puzzle, you will have to be aware of all three mazes at the same time. It's not too hard and not too easy. You will enjoy it.

The Amazing Cube Maze was inspired by the mechanical Oskar's Cube puzzle, designed by Oskar van Deventer, the prolific mechanical-puzzle designer from the Netherlands.

• Mazes are dynamically generated — you will get a new puzzle every time you play (we gave up on trying to figure out how many possible combinations are there, but it's definitely enough).
• Intuitive touch screen controls.
• Different maze sizes for different levels of challenge.
• Auto-solve mode — watch the computer do the thinking for you.
• Hint — if you get stuck we'll help you.
• Play against friends in Game Center!
Amazing Cube Maze 2.4 Update