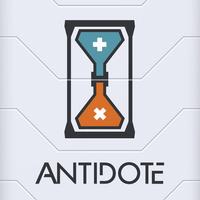 Antidote Lab Assistant
Free Get
Antidote Lab Assistant Description
Description:

Put the deductive power of the official Antidote Lab Assistant App on your side! Keep track of the formulas you've seen each game to give yourself a better chance to survive every time you play Antidote!

This app is a supplemental tool to the popular 2015 card game, Antidote, by Bellwether Games. You'll be able to quickly mark-off or note uncertainty about each formula and easily refresh your notes between each game. Perhaps this App is the edge you need to be the most successful Antidote player in your gaming group!

Details:
This is the official Antidote Lab Assistant App from Bellwether Games LLC.

Version 1.0.5

Tap any of the 8 formulas in the game to mark it with an "X"
Tap a second time to change the "X" to a "?"
Tap a third time to clear
There is also a reset button to clear notation from all the formulas
In-app purchases include the ability to remove ads for $0.99

Version 2.0.0

Menu tab replaces "Remove Ads" tab
Menu screen added with buttons for "Deduction," "Go Premium," "Buy Antidote," "Rate This App," and "Credits"
Premium menu added with "Trial Premium," "Buy Now," and "Restore Purchases" buttons
Tap "Go Premium" to open Premium menu
Tap "Buy Antidote" to go to bellwethergames.com
Tap "Rate This App" to go to App Store ratings
Tap "Credits" to see credits screen
Tap credits screen to return to Menu
Premium features include "exploding" formulas and no ads
Trial Premium for 15 minutes by watching a 5 second video ad
Go Premium for $0.99 (replaces 1.0.5 "remove ads")
"Trial Premium" option disappears for 15 minutes when activated
Return to Menu from Premium menu by tapping outside the pop-up

More about Antidote by Bellwether Games:

In Antidote, you are a laboratory scientist working for a giant chemical research conglomerate. When you and your lab are suddenly exposed to a deadly toxin, you must work quickly to share your research and discover the Antidote before it's too late!

In the game, players take turns deciding what action all other players take: either discard from their hand or trade research with other players. Eventually all your cards will run-out and you will be left with just one that you must "drink" and hope its the Antidote. If this card is the true Antidote, you're cured and live! If not…you die, but you can always try again!