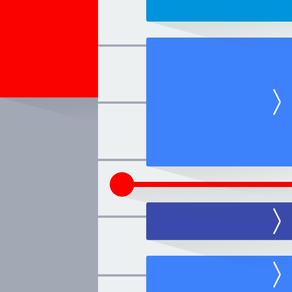 Calendar for Business Screenshots
About Calendar for Business
Ever wished for an easier way to join a conference call? Calendar for Business is a powerful calendar designed for you. A business person who're looking for efficient yet simple way to save his time. We encourage you to give it a try.

–––TESTIMONIALS–––
"I have used so many calendars I can't count them. This is simply the most feature rich and functionally capable calendar for my iPhone I have become addicted. Take the time to set it up fully it is well worth it. Highly recommend!"

"Great app if one is a heavy calendar user. Not only I can now finally forward invites on the iPhone, the app is surprisingly intuitive in one touch dialing in to the myriad conference calls from the invites. Fantastic!."

–––WHAT'S CALENDAR FOR BUSINESS?–––
Calendar for Business app is a new iPhone calendar application which contains many great features calendars should have especially forwarding a meeting to a new attendee or replying to all invitees. Calendar for Business includes Auto Dial Conference Call which allows you to join a conference call in just two taps without the hassle of back and forth to type the conference numbers. Calendar for Business Pro is integrated with Skype for Business® and WhatsApp® allow you start a chat directly from the app.

Calendar for Business is a Freemium app. You can try the premium features for a limited time. We hope you will enjoy using it. You can upgrade to the Pro version app available in the App Store too.

–––WHAT PEOPLE LOVE ABOUT CALENDAR FOR BUSINESS?–––
Calendar for Business main features:

Share and Reply:
+ Forward a Meeting w/ICS file attached (The ICS file store calendar information which can be synchronized with other users' calendars such Microsoft Outlook or iCal).
+ Share a meeting using iMessage app.
+ Reply to the meeting organizer or Reply to All attendees by email or message.
+ Create event using the Share action. Simply select a text from any app and tap on Share. From the Share Action tap on Calendar for Business and event will be created using the text you selected.

Plan your work:
+ "MyDay" display all yours upcoming meeting for today and tomorrow include "Free" time.
+ Daily, Weekly, Monthly and Yearly Calendars.
+ Creating new events using natural language. Just enter "Conference with Jimmy on Monday". Using dictation, you can speak the details for your meeting and Calendar for Business will do the rest.
+ Two Time Zones display on Day View.
+ iOS today widgets.

Easy to Join a Conference Call:
+ Auto dial conference calls simply from the meeting invites.
+ Conference Book Address to save all your favorites conferences.

And many other great features:
+ Search meeting based on Title, Location, Organizer or Attendees or with Spotlight on your iPhone.
+ Pre defined messages and message templates.
+ Beautiful themes.
+ Follow-Up using native Reminder app.
+ Inbox for new and Pending invites (Set email in Settings -> My Details) .
+ Flags and Categorizes to mark specific meetings.
+ Format Rules which allow you to color meeting titles.
Learn more at app website.

Calendar for Business will make your day more productive!.

–––FEEDBACK, REVIEW or COMPLAINTS–––
We value any and all feedback (compliments or criticisms) and you'd be surprised how often and how quickly we act on comments. Please contact us with your testimonials, suggestions, criticisms, or any other correspondence, directly from the app by tapping on Settings > Feedback & Support or by emailing us. We'll do everything we can to leave you happy.

*Skype for Business and WhatsApp are trademarks of their respective companies.
What's New in the Latest Version 2.6.4
Last updated on Oct 6, 2019
Old Versions
Minor bug fix.
Thanks for using Calendar for Business!
Version History
Minor bug fix.
Thanks for using Calendar for Business!
Supporting iOS13.
Thanks for using Calendar for Business!
Thanks for using Calendar for Business! A small fix to support iOS12. If you need us you can always find us on Facebook or by email. If you are enjoying the app, please consider leaving a review or rating!. This means a lot to us.
Calendar for Business FAQ
Check the following list to see the minimum requirements of Calendar for Business.
Calendar for Business supports English, French, German, Hebrew, Italian, Romanian, Russian, Spanish
Calendar for Business Alternative