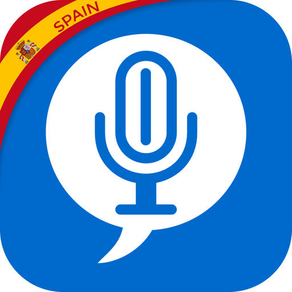 Discurso a texto : Voz a texto
Discurso a texto : Voz a texto Screenshots
About Discurso a texto : Voz a texto
'Voz a texto - Voz a texto' o voz de texto es una potente aplicación de voz a texto, que proporciona reconocimiento de voz continuo con un diccionario personalizado (signos de puntuación, números de teléfono, direcciones, etc.) que le ayuda a crear ensayos largos, publicaciones e informes. Usando solo tu voz.
Speech Texter es utilizado diariamente por estudiantes, maestros, escritores, bloggers, hombres de negocios de todo el mundo.

'Speech to Text - Voice to Text' es su propio asistente personal para transcribir videos y notas de voz a texto. Aprovechando las tecnologías de inteligencia artificial casi instantáneas, 'Voz a texto - Voz a texto' proporciona transcripciones legibles y de calidad con solo presionar un botón.

¿Tiene que escuchar sus notas de voz una y otra vez para recordar lo que dijo? ¿Pasa mucho tiempo escribiendo actas de reuniones o revisando entrevistas que ha grabado? Tal vez usted es el tipo de persona que prefiere leer notas, en lugar de sentarse a través de horas de cursos y conferencias en línea? ¿Qué sucede si necesita crear subtítulos para una película o desea traducir rápidamente un video en un idioma extranjero? 'Speech to Text - Voice to Text' hace todo esto y mucho más: convierte el habla de múltiples fuentes en un texto sencillo y legible, listo para leer y compartir con otros.

:: IDIOMAS COMPATIBLES ::

:: Soporte de reconocimiento de voz - 37 voces diferentes (idiomas) para elegir

Inglés (UK), Inglés (US), Inglés (Irlanda),
Español (México), Bahasa indonesia, Bahasa melayu, čeština, Dansk, Deutsch, français (France), italiano, Magyar, Nederlands, Norsk, Polski, Português, Pyccĸий, Română, Suomi, Svenska, Tϋrkçe, Hebreo, 한국어,,中国), japonés, tailandés, العربية, vietnamita, ucraniano, hindi

CARACTERÍSTICAS SUPERIORES:
● 'Speech to Text - Voice to Text' cualquier video o memo de voz automáticamente
● función futura: admite más de 50 idiomas y dialectos (se incluirán en la próxima versión. Casi listos para trabajar).
● Exportar texto sin formato a su aplicación de edición de texto favorita o exportar como archivo PDF.
● Y, por supuesto, puede guardarlo para su uso posterior.

Para comenzar solo haz clic en el botón del micrófono y comienza a hablar.

Speech to Text: la aplicación Text to Speech para dictar texto que puede enviarse por SMS o correo electrónico o copiarse y pegarse en otra aplicación. La aplicación también es capaz de pronunciar texto usando su motor TTS incorporado.

Speech to Text - Text to Speech le permite convertir sus palabras habladas en texto y copiar / compartir en cualquier otra aplicación para su uso, etc.

Speech to Text: la aplicación Text to Speech es una aplicación simple y fácil de usar. El texto aparece después de que termine de hablar. Una vez que obtenga la regularidad, puede enviar y compartir correos electrónicos largos y en otras redes sociales y muchas aplicaciones de mensajería mediante un alto nivel de precisión en más de 50 idiomas diferentes.

Es muy potente. La aplicación de voz a texto: texto a voz utiliza el servicio de reconocimiento de voz. Todo lo que proporcione como voz se traducirá en palabras con esta emocionante aplicación de voz a texto. Es muy excelente para las facilidades de mensajería ya que viene con el dictado y esta aplicación es para las personas que escriben con lentitud, por lo que con esta aplicación puede dictar su documento y realizar tareas de edición como desee.
What's New in the Latest Version 1.0
Last updated on Nov 1, 2018
Discurso a texto : Voz a texto FAQ
Check the following list to see the minimum requirements of Discurso a texto : Voz a texto.
Discurso a texto : Voz a texto supports English
Discurso a texto : Voz a texto Alternative