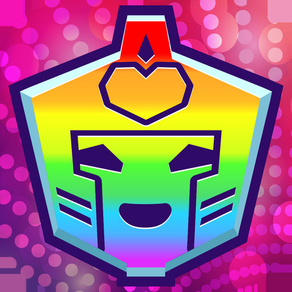 About GayBots
The evil Robophobes have unleashed a virus that is corrupting the peace loving robots of Rainbowtron. Only you can stop Megaphobe and free the GayBots from the forces of ignorance and intolerance! Unite the GayBots and free your friends using the powers of Friendship and Love!

GayBots is a simple turn-based card game that allows the player to fuse two of their GayBot cards into a single more powerful card, dealing damage to their opponent. With more than fifty different combinations at your disposal, the GayBots can combine into a multitude of friendly props and situations.

Thwart your foes with a stunning Ice Dance! Defeat your opponents with the shock of a Hipster! Perform a Half Time show to distract your enemies! Build a Pride Flag to spread awareness and fight the evil Robophobes!

*COLLECT over 50 charming and EXOTIC robots!

*COMBINE your robots into stronger and more FABULOUS creations!

*CUSTOMIZE your deck and hand craft the ULTIMATE set of cards!

*UPGRADE your cards in the WORKSHOP to make them outrageous!

*BATTLE online in the FUNDERDOME and challenge other players around the world!

What are you waiting for? Play GayBots today!

___________________________

GayBots is brought to you by Fluik Entertainment, makers of wicked-fun mobile games such as Office Jerk, Plumber Crack and Grumpy Bears. Search the App Store for "Fluik" to browse all our games.

Follow @FluikGames on Twitter for awesome game announcements and other updates.

NOTE:
Please don't include bug reports in your app reviews. We can't respond to you directly, so it can be difficult for us to offer help or properly debug the situation. You can post all bugs or suggestions on the Facebook fan page, or email us via support@fluik.com
What's New in the Latest Version 1.2.1
Last updated on Jul 20, 2018
Old Versions
Updated for 64 bit devices and and Metal rendering
Version History
Updated for 64 bit devices and and Metal rendering
- Energy will now refill even while offline
- "Enerjuice" can now be purchased
- Squashed some bugs
Lots of bug fixes.
Enemy bots throughout have had their difficulties lowered.
Coin rewards in single player have been increased 2x to 5x
Random cards may now drop after every single player victory.
Converted heal special ability to a shield ability.
Increased drop chance of gold in regular card packs.
Energy recharge rate was reduced by 50%
Forge rates vastly improved, much easier to upgrade cards now.
Improved card scrolling controls.
Bug and UI Fixes.
GayBots FAQ
Check the following list to see the minimum requirements of GayBots.