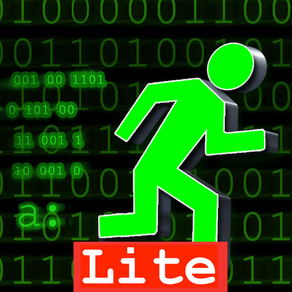 Hack RUN Lite
Over 3 million downloads!
Hack RUN Lite Screenshots
About Hack RUN Lite
Play Hack RUN Lite! Hack your way into the heart of a mysterious organization to uncover their secrets. Hack RUN is a game which uses 'old school' command prompts (like DOS or UNIX) that simulate a real operating system. Learn the commands of each system to help you navigate through your adventure.

As you hack into their systems, you will learn about the organization and the people who work there. Read files and emails to find clues and riddles which will give you access to more accounts. Data found on their systems will help you learn about the motives of the organization, and how dark their plans can get. You may also discover dirty little secrets about the employees as well.

Hacking into new accounts or discovering key information will increase your skill level. As you achieve your goals, you will move closer and closer to the final achievement; over 50 levels deep in the full version!

It's time for a Hack RUN!

Use the Apple TV companion app to enhance your game on the big screen!

GAME CENTER SUPPORT: Earn achievements and compare your leaderboard score against other players.

LITE VERSION: This Lite (free) version of Hack RUN does not contain all of the levels of the full game.

Stuck on a level? Just use the 'hint' or 'answer' commands to help you along.

=====================================
Hack RUN has been featured in the App Store! We are thrilled Apple has given us this honor, and we hope you enjoy it as much as they do!
=====================================

"Great fun! I just finished Hack RUN, what a great game! I'm a big fan of interactive fiction and this is a wonderful example of how the genre can be expanded and still be current."

"Brilliant game! Command propmpt for lay people."

"This is AWESOME!!! This game us so cool that I stopped texting my girlfriend to play it haha :P"

=====================================
When you're done playing Hack RUN make sure to play our other FOUR games 'Hack Run ZERO', 'Hack WATCH', 'Hack Time' and 'Hack NET'!
=====================================

Hack RUN Lite is a game. It is not a tool or aid for learning how to hack into real computer systems. i273 LLC does not endorse hacking.
What's New in the Latest Version 13.1.0
Last updated on Nov 7, 2019
Old Versions
Version History
> Apple TV Support! Hack RUN Lite can now be played on your iPhone/iPad and you can follow along with the companion TV app.
> View exclusive BONUS content only available on Apple TV!
> Follow your adventure on the big screen.
> Note, you will still need an iPhone or iPad to play Hack RUN since the TV features are meant to be an enhancement to the game.
> Updated for use with the iPhone X
> changed default font size for the iPhone 6 and iPhone 6+
> minor bug fixes
> Enhanced for iOS 8
> Supports larger screens on iPhone 6 and 6+
> Added 'font' command to change font size
> Support for latest OS
> Added ITC languages
> Misc bug/typo fixes
> Support for iOS 6 & iPhone 5!
> Complete offline support including hints and answers
> Added Game Center support (achievements and leaderboard)
> Customizable achievement notifications (popups or inline)
> System shutdown doesn't require restarting the localhost
> Included 'alt'ernate commands
> Multiple enhancements and bug fixes
> Fixed issue with the 'tips' command
> fixed issue with the 'readme' file and the 'run' command
Fixed issue with crash on startup on some devices.
> Added more levels to the free version!
> Included 'tips' & 'ach' commands within the terminal
> Added the 'notes' command to the terminal to save/store personal data
> Miscellaneous optimization and stability improvements
> added support for second app - Hack Run ZERO
> added ability to customize colors of text and terminal window
> fixed bug related to sending emails if device is unable to send emails
> ability to post to Facebook
> added information view

Release Notes for v1.3:
> Fixed iPod 1st generation issue
> Reduced minimum iOS version to 3.1.3
> Addressed issues accessing Tips & Hints section
> Addressed issues running the 'web' command
Release Notes for v1.2:
> Fixed iPod Touch black screen issue
> Cleaned up content
> Added toggle item in preference settings
> Fixed bug if played more than once
IPOD TOUCH USERS, DO NOT DOWNLOAD OR UPGRADE TO VERSION 1.1 - IPOD TOUCH SUPPORT WILL BE RELEASED IN VERSION 1.2 SOON

Release Notes for v1.1:
> Content added to improve overall gameplay
> Added specialized icons for the App Store
> Fixed minor bugs (undocumented features)
Hack RUN Lite FAQ
Check the following list to see the minimum requirements of Hack RUN Lite.
Hack RUN Lite supports English, German
Hack RUN Lite Alternative