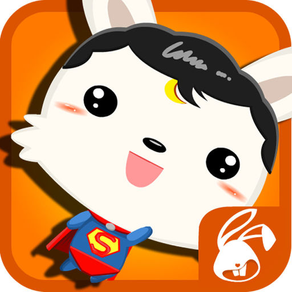 Happy English 1 Screenshots
About Happy English 1
" Ladder English" is learning English teaching materials, can be established in children with articulation, oral competence based. Nursery rhyme and repetition patterns of trait, so that children can easily to recite, therefore can increase children's English sense of achievement, let the children not only learn English good, even the English songs to sing a level rod!

" Ladder English" for Chinese children English teaching has opened up a new world! Layout is novel and unique, scientific, systematic and interesting. In addition to make the best use of cute cartoon attract children, a full set of conversation, words, sentences ... ... According to the12level of the grammar progress, very easy for children to learn. The whole set of materials were divided into 40 categories of life theme session, each lesson's conversation with small actor Jack one family as the center, let the children Jifentianying their life circle around them, understanding people, things, objects. Complete and coherent plot, make children more energy into them, and learn to real life english.

The most special is this set of teaching materials according to child psychology principle, let the little actor Jack around the object" personification" for example: cups, alarm clock, the bird. They are like humans the passions: happy laugh, sad cry, angry will get angry. And lovely cartoon character design, let the children produced considerable familiarity, scruples in lively and fun atmosphere for learning english.

" Ladder English" in every textbook page directory listed in the course of grammar and progress, very quickly to help English teachers immediately grasp emphasis, play teaching effect.

" Ladder English" complete set teaching material is divided into early, middle, senior. Content is solid, and a plurality. Contains colour cartoon books, computer CD CD-ROM, VCD / DVD TV, tape and other series of audiovisual material, for children to create an English learning environment, it is the most scientific, most advanced, best children's English teaching!
What's New in the Latest Version 1.6
Last updated on Jul 2, 2016
Old Versions
Version History
Amendment to children's music club flash back.
1: Add massive online play mp3 songs download.
2: Add massive video online play songs downloaded.
3: Add a variety of children's music played.
4: It is strongly recommended to upgrade.
1: modify flash back problems
2: adding story, increased audio quality
Compatible with the IOS 4.3.
Updated children's songs
Add some very interesting game conten
Happy English 1 FAQ
Check the following list to see the minimum requirements of Happy English 1.
Happy English 1 supports Chinese, English
Happy English 1 Alternative