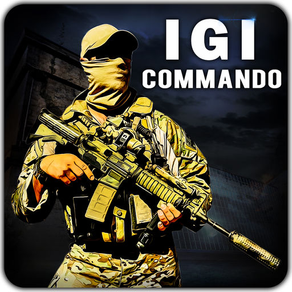 About IGI Commando
IGI Commando -
Let's download and enjoy the fully featured IGI commando game from App Store at your iOS device for free. It offers the most comprehensive war battled strategy game. this is a combat game which you need to kill all the enemies and commander who are trying to surmount your country. Be a brave army commando, ambush and kill the enemies before they kill you. As a one man army you have to fight with rebellion insurgency in the world most dangerous area and stop commander because he might cause to be a great threat of peace in your country..
The IGI commando is basically a free iOS offline first person shooting and survival game with your strategy and brain skills. very shortly a free commando shooting game. In the game the commando is the last hope.. Your job is to clean the camp , eliminate the terrorists. and clear the whole area. You are equipped with assault rifles and snipers. Bu for the very first mission you will have to kill an enemy with a knife.
Tap the fire button on the right bottom corner to shoot and scope is also on the right bottom corner. To crouch tap the left bottom corner and to run tap the middle bottom button on your screen. Become a real hero by saving your country and be a reason for the world's peace and happiness among the people. Show you domination on your enemy and tell them that who is the boss here. Defeat them in the combat.
The Enemy will keep attacking on you in waves so you have to survive until the last enemy soldier dies. You are the one man army so survive and fight until the last drop of blood in your body.
Highly Advance Weapons awaits your touch. Show your domination on your Rivals and tell them that who is the boss here.
This Game is the most realistic simulation shots of weapons and army. One of your Base Camp has taken control of other country and all the Important Buildings are guarded by the Enemy Soldiers. Lots of Good Soldiers have fallen today. Start a CIVIL MUTINY within the Base Camp and free your Base Camp from the Evil Claws Of Enemies.
This 3D Game is a large collection shots sounds from different types of weapons.In a army base shooting of soldier and Highly upgraded weapons
Take Tanks , Helicopter and gunship marine and subrine to destroy your enemies into the camp. Submarine trained IGI commando
The REVENGE is the only Real Solution. So brace yourself for the COMBAT at the mouth of ENEMY BASE CAMP. You have to destroy the enemy's Manpower, Highly equipped Tanks and HELICOPTERS flying over the sky.
This will be the real test of your commando skills in enemy's territory. Kill all the soldiers before the raining bullets smash you out. You are loaded with various weapons. There are options to choose the desired gun you like for shooting. It will be a do or die situation, the courage of a commando never let him down. Become conquer in the war of your right.
With access to powerful guns you will rely on your marksman skills to finish the job. Upgrade your sniper rifle to improve accuracy, damage and range.
It is very fantastic and attractive graphics commando action game. groundbreaking, collaboration, crowd game sniper attack on enemy and kill them and not enter your secret area. War Has begin into the camp, War of IGI and others soldiers has started

Features.......
More than 50 levels
- Amazing 3D graphics.
- Deadly weapons.
- Addictive game play.
- Thrilling missions.
- Brutal action military game.
- Efficient weapon controls and movement.
- Smooth game play.
- Amazing sound effects.

1: you can pickup the following weapons:
Sniper Rifle
Revolver
Ak-47
MP5
Shot Gun
Bazooka ( Destroy the enemies Choppers and tanks )
KATANA
Knife
You Can also buy weapons from store
- Challenging levels in different battlefield environments
A Sniper action shooting game
• levels of thrilling missions
• Top quality weapons used
• Real war arena.
- Unforgettable bullet cam kill shot moments.
- Global Ops event system with prizes to be won
- 50 unique maps and stunning locations.
What's New in the Latest Version 1.4
Last updated on May 16, 2017
Old Versions
Minor Bugs Fixed
Graphics Enhanced
More Levels Integrated
Game Play More Enhanced
Controlled Smooth More
Version History
Minor Bugs Fixed
Graphics Enhanced
More Levels Integrated
Game Play More Enhanced
Controlled Smooth More
IGI Commando FAQ
Check the following list to see the minimum requirements of IGI Commando.
IGI Commando supports English