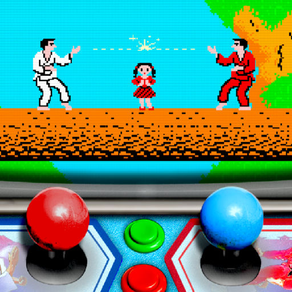 About Karate Champ
Don't miss the chance to grab a piece of gaming history!
The original arcade fighter from Data East, now complete with **MULTI-PLAYER**, Karate Champ is the very first fighting game and spawned a thousand imitators.

One of IGN's Top10 Most Influential Games of all time, and to many the game that embodies what a fighter should be.
Featured in iTunes must-have 'Retro Games', Former Top10 Arcade Game worldwide and nominated for the 'Best App Ever Awards' and Included in Touch Arcades list of must have apps for iPhone.

As featured by Apple, Gizmodo, Touch Arcade, and Pocket Gamer, Karate champ is more than a blast from the past and a must-have for your fighting game / retro collection, Karate Champ is unique for it's use of TWO STICKS NO BUTTONS, VERTICAL screen, and 2 player mode via wifi and bluetooth.

This not only makes it unique among the fighting game fraternity but perfectly suited to the iPhone from a control perspective, and one of the best 2 player experiences on iTunes.

Features include:

- Dual Arcade Stick Controls (no D-Pad or buttons).
- Vertical orientation (no thumbs covering the action :)
- Virtual arcade cabinet surround and facia
- 1 Player vs CPU over 12 environments
- 2 PLAYERS via Bluetooth and WIFI !!
- all the bonus rounds (including the rampaging bull :)
- all the classic 80's sounds
- Various New User Settings
Super large Character Option
Customise the arcade unit facia
Old school scanlines on/off
- and much much more.

This is no random button masher, it's about skillfully executing perfectly timed karate moves against ever more challenging opponents in your quest to become the one true Karate Champ!

Rebuilt from the ground up for the iPhone and iPod Touch, Karate Champ is a beloved retro classic without equal.

Support Notes:

i) 2 Player Mode requires access to wifi OR 2 devices with compatible bluetooth.

ii) Karate Champ provides a lag free experience but to ensure best results use either Wifi OR Bluetooth but don't leave both on as it can cause network confusion in rare cases.

iii) Karate Champ has been designed for iPhone and iPod Touch play but also looks and plays GREAT on the iPad with 2x scaling and of course multiplayer via wifi/bluetooth. :)

*Separate dedicated iPad version 'Karate Champ XL' also available with 2 Player head to head SPLITSCREEN mode.

4f05210eef
What's New in the Latest Version 2.0
Last updated on Sep 24, 2013
Old Versions
NEW Retina Graphics!
Support for iPhone5, 5S, 5C 4" Screen
Improved Multi-player via Bluetooth or wifi
New icon
Version History
NEW Retina Graphics!
Support for iPhone5, 5S, 5C 4" Screen
Improved Multi-player via Bluetooth or wifi
New icon
Background MultiTasking
Retina Display Icon

Please if you enjoy Karate Champ (dont forget to try 2 player mode :) consider nabbing the iPad version with it's awesome splitscreen arcade mode.

And PLEASE PLEASE refresh your review so it will appear again, or if you havent left one please take a moment to write a short one as they really help us to be able to cntinue to bring you new and exciting games and updates.

Many Thanks for your support and best wishes for Xmas!
Added Support for network play with the iPad
Added Retina version of Icon

Developer Note: Thank you for your support in purchasing Karate Champ! If you get a chance check out the new iPad version -complete with 2 Player splitscreen mode - and please take a sec and write or update your review (old ones are hidden after an update :( We read them all and they are so important to our ability to keep making apps for you.

We hope you enjoy this and the many other exciting new titles we have coming very soon!

Also check out our other games - and utilities (released under our sister co. 'Collect3').

Picture Safe - 1m+ users. The no#1 Privacy App on iTunes for 2 years!
Video Safe - Import, password protect and play video from pc/mac. 18 months as the No.1 Video App.
Beatwave - Featured FREE music maker that anyone can use.
Karate Champ - Awesome 2 Player Fighter. iPhone and now iPad version.
Banzai Rabbit HD for iPad - former No.2 Adventure Game.
Cobra Command - arcade helicopter laserdisc classic downloaded more than 400,000 times.

Thanks and all the best,
Revolutionary Concepts.
Karate Champ FAQ
Check the following list to see the minimum requirements of Karate Champ.
Karate Champ supports English