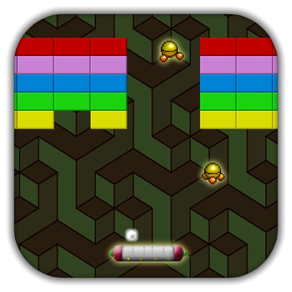 Break It Out
Old style breakout with editor
2.1.2
for iPhone, iPad and more
لقطات الشاشة لـ Break It Out
About Break It Out
This is another old school game from Gekko.
This time we don't limit players to play only arcade style but we added the greatest feature "Editor" to get unlimited fun and competition.
All online levels will have an "Author", a "Record", a "Hits" counter and much other.
Try to be the best level designer in all over the world!!!

Help :
- To pause the game use the upper button while playing.

Features:
- 50 Arcade solo levels
- EDITOR : Design your level and share online with all players.
- 10 Powers up
- Stats for all online levels "hits, data, records, author, record man"
- Game Center

The game will be updated regularly with new features and power ups.
Enjoy!
تحديث لأحدث إصدار 2.1.2
Last updated on 28/08/2020
الإصدارات القديمة
Version History
- iOS 6 / 7 compatibility
- New server side location
- Switch to free app
- Online level preview faster in tableview
- Continue in app purchase
- App name change
- Facebook integration
- French description
- Italian description
- Name change
- Bug on next online game solved
- Best online levels added to the game
- New icons
- In App deprecated
- Added wait for load notice
- Online levels font bug fix
- Online levels list fix
- Game Center fix
- Chat Deprecated
- Added iAD
Break It Out FAQ
تحقق من القائمة التالية لمعرفة الحد الأدنى من المتطلبات Break It Out.
iPhone
Requiere iOS 8.0 o posterior.
iPad
Requiere iPadOS 8.0 o posterior.
iPod touch
Requiere iOS 8.0 o posterior.
Break It Out هي مدعومة على اللغات Inglés
في Break It Out عمليات شراء داخل التطبيق. يرجى التحقق من خطة الأسعار على النحو التالي: