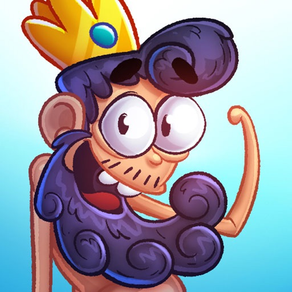 CardQuest: Real deal
CardQuest
1.2
for iPhone, iPad and more
لقطات الشاشة لـ CardQuest: Real deal
About CardQuest: Real deal
Card Quest provides simple basic mechanics with roguelike elements, but it is hard to become a master and beat the enemies.

Take a seat in Card Quest cozy jungle and play a round of games with your favorite Hero.

Explore magical Cards, discover treasures, and Bypass ancient traps in the world of Card Quest!

You've got 13 enemies with different tactics. Cactus Dracula, Crow, Itinerant, Joker, Rough Looter, Poisonous, Balck Sheep, Golden Soldier, Weapon-Breaker Turtle, Young Witcher, and Bad woolly.

The game will surely give you some nice moments to spend, or some hours because it is addictive.

HOW TO PLAY
In this card roguelike, you move your character card about a field of nine cards and even more. You have to clash your card with neighboring cards to move it. Monster cards and trap cards will decrease your card's health; healing cards will... well, heal you, cards with gold will increase your game score, and there are also many other cards and Spells with unique abilities and behaviors.
Crawl around endless places, collect loot and fight turn-based battles against dozens of unique enemies. Utilize deck building to alter the game flow and improve your chances of survival with permanent upgrades. Playable offline!

FEATURES
- Fight in epic turn-based card battles
- engaging game mechanics
- easy one-hand control
- easy to learn, hard to master
- Stunning graphics
- Variety Goals and levels
- Runs smoothly even on the older phones
- Two to three minutes of playtime per game

Card Quest is a quick and addictive RPG card hog game.
Play Card Quest now!
تحديث لأحدث إصدار 1.2
Last updated on 27/06/2021
الإصدارات القديمة
We changed the app screenshot with a new UI design.
Version History
We changed the app screenshot with a new UI design.
- Minor bug fixes
- Update Tutorial

- New bosses and enemies
- Visual updates and improvements
CardQuest: Real deal FAQ
تحقق من القائمة التالية لمعرفة الحد الأدنى من المتطلبات CardQuest: Real deal.
iPhone
Requiere iOS 12.0 o posterior.
iPad
Requiere iPadOS 12.0 o posterior.
iPod touch
Requiere iOS 12.0 o posterior.
CardQuest: Real deal هي مدعومة على اللغات Inglés
بدائل لـ CardQuest: Real deal