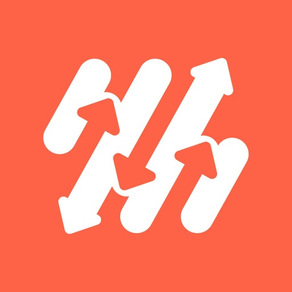 Daily Crypto Signals
1.0.2
for iPhone, iPod touch
لقطات الشاشة لـ Daily Crypto Signals
About Daily Crypto Signals
Tired of losing money while trading? Unlock the next level of trading experience by using our Ultimate Free Crypto Signals for Bitcoin, Ethereum, Dot, and all Altcoins in one app.
Why Trading by Crypto Signals?
Cryptocurrency markets are highly volatile and crypto trading can be super frustrating with all the charts, technical analysis, and fundamental news. You should be a professional way before start trading.
But there is another way: Crypto Signals.
It doesn't matter if you are a professional or a newcomer to the world of online crypto trading. Regardless of the level of your experience, you can easily use crypto market signals to easily trade based on experts' analyses and make money.
It's easy! You get the signal in our app. It comes with instructions on what crypto to buy (Bitcoin, Ethereum, or other Altcoins) and when to buy & sell it. Don't worry. It carries minimum risk because standard signals always tell you where to set your stop-loss to prevent any loss.
All-in-One App Worth Thousands!
We analyze all cryptocurrency markets including Bitcoin, Ethereum, Cardano, and all other Altcoins, and handpick the best signals for you to access from one app.
But the story doesn't end here! On our app, you can access VIP signals plus a lot of instructional content and video tutorials, not to mention, real-time market news & events perfect for fundamental analysis. By the way, you can access our VIP telegram channel to access all signals across all your devices.
Together, you can access the ultimate financial & crypto trading tool, worth more than $100,000, right from your iPhone. Just install Daily Crypto Signals App and instantly access a lot of signals to jumpstart your cryptocurrency trading.
Ultimate Features Right in your Pockets
Daily Crypto Signals comes with a lot of free signals perfect to start your trading journey into the world of cryptocurrency and get unlimited access to our app features like:
Free & VIP Signals for Bitcoin, Ethereum, and all other Altcoins
Instructional Articles and Video Tutorials Only for our Users
Real-time Market News, Events, and Technical & Fundamental Analyses
Instant Access to our VIP Telegram Channel
One Team the Size of the World!
Our team of top talents in technical & fundamental market analysts from the USA, Canada, England, France, Germany, Italy, Turkey, India, Japan, China, and Australia, work together with one purpose: To provide the best crypto signals for you to supercharge your trading experience to another level.
We make sure every single crypto signal meets our standard of highest success rate across the industry. The handpicked VIP signals can bring you lots of profit without the hassles of analyzing charts, events, and news.
Risk Warning: Trading involves the risk of losing money. Cryptocurrency markets are highly volatile and any event, like countries' political & economical conditions may change the price, availability, and the direction of the market. Make sure you have enough experience and you are legally allowed to invest in such financial markets before start trading. Consult an independent advisor if you are required.
Disclaimer: Signals provided by our app are purely for the purpose of financial advice & market insight. Please trade with caution and use signals at your own risks.
تحديث لأحدث إصدار 1.0.2
Last updated on 18/08/2021
الإصدارات القديمة
Daily Crypto Signals FAQ
تحقق من القائمة التالية لمعرفة الحد الأدنى من المتطلبات Daily Crypto Signals.
iPhone
Requiere iOS 10.0 o posterior.
iPod touch
Requiere iOS 10.0 o posterior.
Daily Crypto Signals هي مدعومة على اللغات Inglés
بدائل لـ Daily Crypto Signals