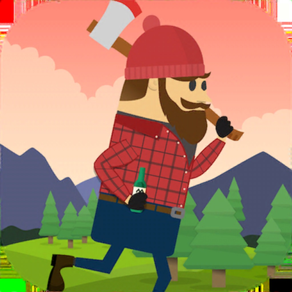 لقطات الشاشة لـ Escape the Woods
About Escape the Woods
2D Endless Arcade Runner Game
Try to escape from the hungry bear. Run as fast as you can to avoid falling down and getting devoured. Jump over, slide under, & chop different obstacles to keep running from the angry bear attack.

Arcade Infinite Field Running Game Play
It is simple to play but hart to master. Are you ready to spend hours and hours trying to escape, running from a wild animal that is trying to eat you? We have designed the game in a classic 8-bit style, with retro animations. Dash all the obstacles and try to survive in this impossible forest adventure!

Main Features

• Simple Interface
• Endless Running Game Play
• Incredible Retro Design
• Fun for Hours
• Lumberjack or Timberman Adventure
• Running Game for Kids

Are you ready to try to outrun an angry bear for your survival?

DOWNLOAD IT NOW !!
تحديث لأحدث إصدار 1.9
Last updated on 28/07/2018
Escape the Woods FAQ
تحقق من القائمة التالية لمعرفة الحد الأدنى من المتطلبات Escape the Woods.
Escape the Woods هي مدعومة على اللغات English
بدائل لـ Escape the Woods