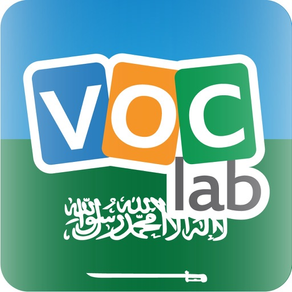 Tarjetas Árabes
Gratis
Offers In-App Purchases
3.65
for iPhone, iPad and more
لقطات الشاشة لـ Tarjetas Árabes
About Tarjetas Árabes
Voclab le ayuda a aprender más de 5000 palabras Árabes en poco tiempo.

Nuestro algoritmo científico probado le recuerda en el momento exacto revisas palabras para que nunca las olvide. Esto asegura que usted maximizará su impacto de aprendizaje del lenguaje usando su preciado tiempo tan eficientemente como sea posible.

Voclab incrementará gradualmente la dificultad de las palabras para asegurar que usted logra primero una sólida base de palabras básicas antes de aprender otras más complejas. Esto le permite conseguir rápidamente un buen entendimiento del idioma.

Voclab le proporciona las siguientes ventajas:
+ Más de 5000 Palabras con Audio de alta calidad realizo por Nativos
+ (VERSIÓN LITE con acceso a aproximadamente 200 palabras)
+ Todas las palabras se han seleccionado con cuidado para cubrir las palabras Árabes más importantes
+ Algoritmo especial que considera su carácter de aprendizaje personal para agilizar su memorización
+ Divertido Cuestionario de Opción Múltiple para comprobar su conocimiento
+ Siga su proceso de aprendizaje con nuestras Estadísticas y continuos Comentarios
+ Consiga información adicional para cada palabra (ej. forma y categoría de la palabra)

Si necesita prepararse para un examen o tema específico, también puede centrarse en categorías de palabra específicas o nivel de dificultad. Puede elegir palabras de entre más de 50 categorías de palabras y cuatro niveles de dificultad.

Nuestras categorías de palabras cubren todas las palabras Árabes importantes, abarcando desde categorías esenciales como colores, días de la semana a categorías más avanzadas por ej. Economía y Ciencia.

El algoritmo VocLab se ocupa de que usted siempre aprenda palabras apropiadas para su nivel de competencia.

VocLab está desarrollado por un equipo de expertos de aprendizaje del lenguaje con diez años de experiencia en desarrollar software de aprendizaje del lenguaje.

Si quiere aprender más sobre nuestro método, por favor visite nuestro sitio web en www.voclab.com.
تحديث لأحدث إصدار 3.65
Last updated on 18/01/2017
الإصدارات القديمة
Apple ha actualizado esta app para mostrar el icono de la app Apple Watch.

Add your own words directly from mobile.
Version History
Apple ha actualizado esta app para mostrar el icono de la app Apple Watch.

Add your own words directly from mobile.
Improved Arabic script with tone marks.
Additional 1000 words and sentences added to the content.
Added example sentences for each word, improved content and new audio recordings.
fixed UI issues on iPhone 5
iPad Support
Change language of app
IMPORTANT: You need to have sync enabled in your current application so that this update can sync your data back to your phone from our server. If you do not have sync enables you will loose all your learning status. Please sync your old app before doing this update, to ensure all latest data is getting transferred after the update.
The app is now a native iOS app with much better performance, faster sync and less bugs. The new platform allows us to add exciting features in our future updates.
Please enable sync in this version as the next update is a complete new native iOS app that requires you to sync your learning status back to your device. Otherwise you might loose your learning status/data. We will inform all registered (full version) users before we publish the next update probably in January '15.
Bug Fixes
UI improvements
Auto Sync
Improved Sync.
Bug Fixes
Small Enhancements
added cram mode
add specific words inside a category
improved multiple choice quiz
corrected translation mistakes
additional features
Tarjetas Árabes FAQ
تحقق من القائمة التالية لمعرفة الحد الأدنى من المتطلبات Tarjetas Árabes.
iPhone
Requiere iOS 8.0 o posterior.
iPad
Requiere iPadOS 8.0 o posterior.
iPod touch
Requiere iOS 8.0 o posterior.
Tarjetas Árabes هي مدعومة على اللغات Español, Alemán, Chino simplificado, Chino tradicional, Coreano, Danés, Finés, Francés, Inglés, Italiano, Japonés, Neerlandés, Portugués, Ruso, Sueco, Árabe
في Tarjetas Árabes عمليات شراء داخل التطبيق. يرجى التحقق من خطة الأسعار على النحو التالي: