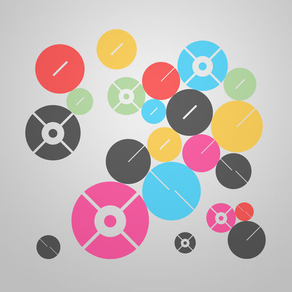 لقطات الشاشة لـ Meanwhile
About Meanwhile
Simple, fun and addictive like crazy, simply put: it's the bee's knees.
Meanwhile features a unique game concept with sleek design and sounds that will make you want to play "just one more time".

Play it while waiting for the bus, on your lunchbreak or for hours at home.
Meanwhile is just as easy to learn and enjoy as your favourite retro arcade games from the past but it's designed especially for touchscreen interaction and total mobility. And once you've learned the basics there's so much more to master.

How to play:
Tap the black circles to gain points.
Swipe your finger across the screen to cycle through colors.
Avoid getting the screen filled with circles.
Gray circles contain various bonuses which affect gameplay and award you points.
تحديث لأحدث إصدار 2.1
Last updated on 02/03/2017
الإصدارات القديمة
Updated compatibility of new phones
Version History
Updated compatibility of new phones
New HD graphics, improved gameplay and a new soundtrack. Added Game Center for global highscores.
* Fixed crashes
* Added a settings menu
* New help screen
* Better facebook integration
* Better online highscore integration
* Autorotate for upside-down
* Fixed some connection errors
Added some missing hi-res textures
* Supports Retina Display
* Supports iPad
* Fixed online features
* Now works on iPhone OS 3.0 and up
* Submit highscore to Facebook to compete with friends
* Online Global Ranking through Facebook
Meanwhile FAQ
تحقق من القائمة التالية لمعرفة الحد الأدنى من المتطلبات Meanwhile.
Meanwhile هي مدعومة على اللغات English