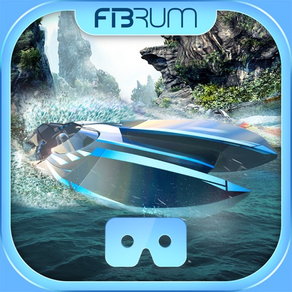 VR Aquadrome
Gratis
Offers In-App Purchases
1.3.3
for iPhone, iPod touch
لقطات الشاشة لـ VR Aquadrome
About VR Aquadrome
Extreme jet boat competition is about to start! Start a crazy race in a tropical paradise, go underwater to the ruins of an ancient city, avoid dangerous obstacles and win the main prize!

In order to start the race, look at the lever in the cockpit.

Compatible with Virtual Reality (VR) glasses

Application requires a virtual reality headset (Google Cardboard-like): FIBRUM VR, ANTVR, Carl Zeiss VR One GX, ColorCross, Cynoculars, Durovis Dive, Fove 0, FreeFly, Homido center (V2), Merge VR, Nibiru, Puyo Box, Refugio 3D, Stooksy, Tepoinn 3D, VR KiX, VR Smartview, VR View-Master DLX, VRTRIA, VRTX One, Xiaomi VR 3D Glasses. In addition to the above models, it is possible to use the virtual reality headset and 3D / VR glasses of other samples and manufacturers.

360 VR emulator — 360 degree freedom.

Enjoy the ultra-realistic 360 3D VR world with detailed graphics and carefully crafted sound merged together for the most immersive atmosphere.
Put on your VR-headset and experience an incredibly emotional adventure in virtual reality.

VR games free trial

The app implements a freemium system. During the whole trial period, you can play absolutely free! If
you like the app, register a promotion code or purchase the app to use the application to the fullest and
get unlimited access to it. To do this, just go through a quick registration in Fibrum Platform.

Fibrum VR

Do you want to know more about Fibrum VR applications? Install and try our most popular 3D virtual reality games (VRgames). Select one of the many virtual worlds: space shooters, westerns, crazy three-dimensional races, breathtaking rides, colorful and hilarious adventures as well as horrors of zombie apocalypse. We have a 360 VR experience for every taste!
تحديث لأحدث إصدار 1.3.3
Last updated on 21/12/2017
الإصدارات القديمة
This app has been updated by Apple to display the Apple Watch app icon.

minor fixes
Version History
This app has been updated by Apple to display the Apple Watch app icon.

minor fixes
- Added a WebView interface
- Christmas 50% off discount on full version
Big update of Fibrum Club.
Now you can register on our new website http://fibrum.net and get access not only for best VR applications but also for news in VR industry and other players.
We are very happy to invite you to join our new Fibrum ecosystem.
VR Aquadrome FAQ
تحقق من القائمة التالية لمعرفة الحد الأدنى من المتطلبات VR Aquadrome.
iPhone
Requiere iOS 9.0 o posterior.
iPod touch
Requiere iOS 9.0 o posterior.
VR Aquadrome هي مدعومة على اللغات Inglés
في VR Aquadrome عمليات شراء داخل التطبيق. يرجى التحقق من خطة الأسعار على النحو التالي:
Discount_aquadromevr
$3.99