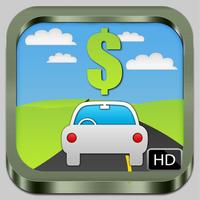 Auto Mileage Logbook TrackerHD
$5.99
Auto Mileage Logbook TrackerHD Description
Do you find it is a real hassle to record your mileage or expenses on paper or with other apps? Well, Auto Mileage Logbook Tracker is for you. This is the easiest way to track your mileage, tax and expenses.

This app is loaded with features to track down all your trips and expenses, and was developed in consultation with actual clients who need an easy and effective way to track their trip mileage and expenses.

FEATURES INCLUDE:
- Log and track all your mileage (start and end odometer readings), and auto-calculate tax
- Sync to iCloud so you can use on multiple devices
- Customise tax rates
- Supports multiple currencies
- App pre-populates start odometer with previous trip's end odometer, saving you time in entering trip details
- Log and track all your trip expenses
- Add your frequent trips as Templates and use them for new trips just by one single tapping
- Delete any Origins or Destinations from your list
- Manage details about each trip, e.g., vehicle details and registration, driver's name
- Quick month/calendar view shows details of all your trips and displays summary totals for mileage and costs separately
- Supports multiple usages and unit costs: Business, Medical, Personal, Charity and Other
- Customize the tax rates for each usage type
- Filter, select and export trip data automatically into email body + CSV file attachment (you can email report directly to your accountant)
- Supports multiple currencies
- Search easily through your mileage logs
- Add notes to each trip's log
- Log expense incurred on each trip
- GPS integration to identify and determine your location
- Multiple origin and destination (build your own lists as you go)
- Multiple driver names (build your own list as you go)
- Multiple vehicles (build your own list as you go)
- Passcode protection
- Record in Miles or Kilometers
- Supports the new iPhone and iOS

Download and start to use Auto Mileage Logbook Tracker HD now to track your mileage and expenses much easier.

Contact us via the Support link if you have any issues, rather than leave negative reviews. Our team will aim to help you better use the app and assist with any issues.
Auto Mileage Logbook TrackerHD 5.1 Update
We've squashed some pesky bugs to give you a smoother user experience. Thanks for your continued support and loyalty!
More