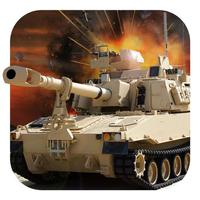 Battle of Tank Force -Destroy Tanks Finite Strikes
Free Get
Screenshots for iPhone
More Screenshots for iPad
Battle of Tank Force -Destroy Tanks Finite Strikes Description
Intense Desert Warfare

Get ready for the war in the most hostile of battlefields to exist on Earth. Deserts are among the most unforgiving and relentless places to only live in, let alone undergo a tiring assault war. You have been deployed to the North eastern desert borders to fend off an army of war gunships and tanks, operating an army grade combat panzer.


Mission Briefing

At the north eastern desert borders, hundreds of Iraqi tanks are amassing a devastating ambush attempt to war enforcement. This will be the first tank battle on the desert. What do they think now? What are they doing now? I heard that they are ruthless and don't fear death, and there are thousands of fuel drums underground to burn me out. Besides, desert is not a good place for tank battle and I hate this high temperature. I want to be a hero and alive as I dream and imagine till now.


The only way to get an upper hand on my enemy is to plan an assault attack when they are at their weakest, in the mid night. Thankfully, I have just the right arsenal of equipment to put a dent in their squad. The night vision attachment for the panzer tank might just prove to be the deciding factor between victory as a hero or defeat, as I gear up to face the formidable Iraqi desert tank army.


Gameplay

Operate and navigate panzer through onscreen controls and gyroscopic movements to aim at enemies. The five levels of gameplay have different enemy classes, as well as varying weather conditions like rains and storms to keep players at their toes.


Your panzer tank is equipped with a bombarding gun, along with night scope vision for tracking down enemies. Track movement of enemies by the onscreen radar system. Fight against T90 tanks and armored cars through blistering desert environments, as you will be completely outnumbered by the enemy weaponry, including anti-tank missile systems.