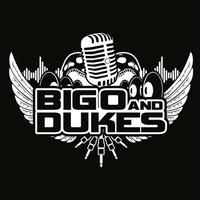 Big O and Dukes Show
Free Get
Screenshots for iPhone
More Screenshots for iPad
Big O and Dukes Show Description
Big O and Dukes is one of the highest rated comedy podcasts and now it's mobile. Download all of their shows and stream without a connection, automatically manage your downloads, and more!

App Features
- Push notifications let you know when the show is live. Quick access to call the show!
- Full access to your RELOADED premium episodes and the entire BOAD network.
- Precision progress bar displays exactly what has been listened
- Time-coded bookmarks lets you quickly access your favorite moments for replay
- Sleep timer lets you listen at night and slowly fades audio out
- Create a playlist of all your favorite episodes for continuous playback
- Media controls that works with bluetooth, headphone controls, and notification panel
- Optimized for the latest iPhone and iPad devices including iPhone X and iPad Pro
- Advanced settings to configure automatic downloads, playback rate, custom skip forward and backward amounts, and so much more!

Podcast Show List
- Big O and Dukes Show
- Big O and Dukes Reloaded
- Rally The Horde
- The Minority Report
- Hard Times and Weirdness

About Big O and Dukes

With a 10 year passionate terrestrial radio following. The Big O and Dukes show has a mind-blowing 5.5 million downloads to date. This current incarnation is its purest form. From pop-culture to politics, each approaches subject matter from very different perspectives. So pull up a seat, turn up the volume and step into the studio with Chad Dukes, Oscar Santana and Drab T-Shirt, by the end of each show you'll have laughed yourself right out of your chair, but have gained a window into the lives of three new friends. #LLTH #BOAD

Visit the BOAD Website - http://www.bigoanddukes.com

Created by Free App Company - http://freeappcompany.com/

Powered by Playapod - https://playapod.com

NOTE: Reloaded access requires a subscription. Visit the BOAD website for details.
Big O and Dukes Show 7.0 Update
Version 7 is a complete rewrite with awesome new features including the precision progress bar, time-coded bookmarks, sleep timer, advanced show management, playback rates, improved media controls, and customized settings. Powered by Playapod!
More