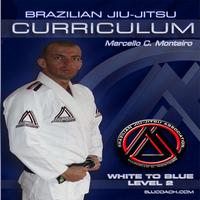 BJJ White to Blue Level 2 Step-By-Step Curriculum
$39.99
BJJ White to Blue Level 2 Step-By-Step Curriculum Description
BJJ White to Blue Lvl.2 Curriculum Step-By-Step Jiu Jitsu System

The Brazilian Jiu Jitsu Step-by-Step White to Blue Belt Curriculum series has 4 APPs with a total of 180 techniques.

The BJJ Curriculum series was created to develop all aspects of the fight game to take each student to their highest possible level for each belt. You will "learn" effective positions, how to attack and defend, counters and re-counters, guard passes, sweeps, submissions, escapes, and set-ups to use when fighting more advanced training partners.

Marcello C. Monteiro is well know the world wide as a teacher and coach for creating fighting strategies. In regard to the Brazilian Jiu Jitsu Curriculum he teaches the most important tricks and details that speed up the learning process and facilitates the performance of each
movement.

Marcello is a certified and accredited Techniical Teacher in Brazilian Jiu Jitsu, registered at the "Federacao de Jiu-Jitsu do Estado do Rio De Janeiro/Brazil". He is graduated and registered as a Professor at the "CREF - Conselho Regional de Educacao Fisica/Brazil". He has already prepared, trained and turned regular students into State, National and World Champions.

"There is only one certain way to learn and improve your skills, and that is through quality instruction."

For more information on Marcello's USA Academy, his World BJJ Association, Books, DVDs, or to bring Marcello C. Monteiro to your academy for seminars check us out at: WWW.BJJCOACH.COM
BJJ White to Blue Level 2 Step-By-Step Curriculum 3.0 Update
The New MCM BJJ Coach apps have been redesigned and rebuilt in-order to take your training to new heights! Open the app and try it out and see the new interactive design, with improved interface. After drilling the techniques found in our "Training Videos" section, use the Official BJJ Coach "Training Timer" to monitor your rolling sessions; and make sure to take notes with our "Training Notepad"! It's time to take your game to the next level!!!
What's New in This Version?
-Performance improved
-Platform updated
-Updated Design
-Improved user interface and interactivity
-Main training videos curriculum content updated.
-Interactive BJJ Coach Training Timer
-Training Notepad conductive to each individual APP
-"About Marcello" interactive data-base. Learn all about his mark on the history of Jiu Jitsu and his qualifications
-Setting MENU with TEXT Size option and added information
More