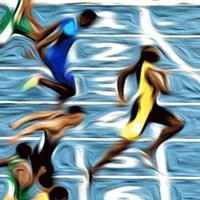 BoltTime
Free Get
BoltTime Description
BoltTime is a easy and affordable way of measure the time on something with high accuracy.
If you are a 100meter runner, or wannabe, you might wanna time your runs.
With manual stopwatch, the accuracy is around half a second.
With BoltTime it is 1/30 of a second. Ca. 3 hundreds of a second.

What you do is actually take a video of whatever you want to have the exact time on, and then you use BoltTime to find the time, by stepping frame by frame through the video.