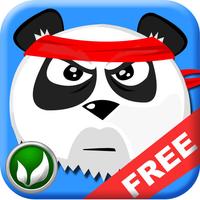 BowQuest: PandaMania Lite!
Free Get
BowQuest: PandaMania Lite! Description
PandaMania in the charts:
USA Reached: #6 Overall, #5 All Games, #4 Action, #3 Arcade
Reached #1 in: Australia, Mexico, Norway, Denmark, Malaysia, and many others!

Featured by Apple in "New & Noteworthy" and "What's Hot". Won the FAAD Silver Award.

Tired of Castle Defense? Tired of Tower Defense? Try Bow Defense! PandaMania is truly genre defining.

* This Lite Edition has 10 fully playable levels including 1 Boss Fight. Check out the full version of PandaMania here on the App Store!

What the critics are saying:

· "PandaMania is an awesome game, that every iDevice owner should own! Fans of TD games, check it out!" - Appmodo.com

· "The game has a great gameplay premise, and the execution on that premise is fantastic. A good variety of enemies forces players to use different strategies; spear-throwing baddies must be dealt with quickly, and knights with shields must be hit from certain angles." - Gamepro's iPhone Games of The Week

An evil thief has stolen your Fu Manchu right off your face, but lucky for you, you're the most talented bowman in all the land. Use your superb archery skills to punish the evil bandits once and for all. Liberate villages all across the world, and let the bandits know that they messed with the wrong Panda!

PandaMania features:
- Intense arcade-style action
- Progressive and hilarious storyline
- Clever and unique BOSS fights!
- Numerous upgrades!

What people are saying:

· "Played for over an hour now. Very few iPhone games even pass the 10 minutes mark for me before I'm done. Only getting better... loving it!" - scfr8

· "I have put five or so hours into this game and have yet to get bored. I love earning coins and upgrading my arrows. I am nowhere near maxing everything out yet." - BazookaTime

· "This game is great. I love it. I am a TD lover and anyone else that is as well need this one for their collection, the stages are re-playable. And with 3 save slots and difficulties there is something for everyone. I don't think this price will last long, As this is worth 4.99! Don't kick yourself later when the price goes up, pick it up now." - Sxethang

· "This game is RIDICULOUS! I picked it up and couldn't put it back down. In fact, all I can think about right now is HOW BAD I WANT TO PICK IT UP AND PLAY IT AGAIN -- AAAUUUGH!!!" - K76

· "This game is pretty cool. The graphics are cool, the gameplay is smooth and it's addicting. This one will be on my iPod for a while." - broeken

So take aim, bowmaster! Destroy the horde of baddies to regain your honor and recover your Fu Manchu!