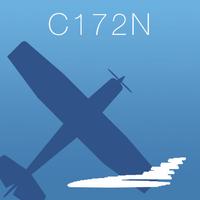 Cessna 172N Study App
Not Available
Removed
from the App Store
Screenshots for iPhone
More Screenshots for iPad
Cessna 172N Study App Description
Cessna C172N Checkride Oral Prep Study App

overview:

Cessna 172N is an aircraft training aid designed to help pilots with memory recollection of aircraft systems and knowledge. The Cessna 172SP Skyhawk by Cessna has replaced the Cessna 172N model. The Cessna 172N is no longer in production. This app is. based on the 1978 Model of the C172N.

features:

CATEGORIES:
•Landing Gear & Brakes
•Limitations
•Electrical
•Fuel System
•Powerplant
•Flight Controls
•Aircraft General
•C172N Random Questions
•C172N Systems Questions

QUIZZES
•Three (3) C172N multiple choice quizzes.
•Optional 60 second quiz timer.

C172N COCKPIT PANELS
•Forward Instrument Panel
•Center Pedestal
•Yokes

C172N SCHEMATICS
•Vacuum System
•Electrical System
•Rudder Control System
•Wing Flap System
•Aileron System

MEMORY ITEMS
•View all memory items in separate view controller making it easy to access the information.
1. Engine Failure During Takeoff
2. Engine Failure After Takeoff
3. Engine Failure In-Flight
4. Fire During Engine Start
5. Emergency Landing W/O Power
6. Engine Fire In-Flight
7. Wing Fire
8. Electrical Fire In-Flight
9. Landing With a Main Flat Tire
10. Electrical Power Malfunction
11. Ammeter Shows Discharge

CALCULATOR
~The aviation conversion calculator allows fast conversion of the most used aviation formulas.
•Fahrenheit to Celsius
•Gallons to Litres (US)
•Gallons to Litres (Imp.)
•Knots to MPH
•Inches to Meters
•Feet to Meters
•Nautical Mile to Statute Mile
•Nautical Mile to Kilometer
•Pound to Kilogram
•Pressure inHg to hPa

AIRPORTS & WEATHER
•Check weather from over 3,000 airports (domestic and international). Find distance in NM from TO and FROM multiple airports. Use the weather feature to access the latest METAR, TAF and other airport information. Must have WIFI or cellular connection for this feature.
•Use the GPS tracking feature for cross country flights.

PILOT FORUM
•Members of this forum can communicate with other users of the app to ask questions, network and search for jobs in the aviation community.

CUSTOM AIRCRAFT VIDEO RECORDER
•Record, save and categorize your aircraft videos.
•Record ground school, aircraft walk-arounds, and flights.
•Record and save unlimited videos.

CUSTOM AIRCRAFT FLASHCARD MAKER
• Easily make your own systems flashcards by naming the category and typing in your own question and answer.
•Create unlimited categories.
•Create unlimited questions and answers.

C172N Systems Description PDF File
•View a C172N brief systems description file for most C172N Airplane and Powerplant systems.
•Print or Email this document and add your own questions.

ZULU TIME CLOCK
•Always accurate and operating zulu time clock installed on the menu screen.
Cessna 172N Study App 6.0 Update
fix to METAR and TAF code.
More