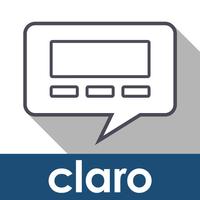 ClaroCom
Free Get
Screenshots for iPhone
More Screenshots for iPad
ClaroCom Description
ClaroCom is an iPad or iPhone App for AAC (Augmentative and Alternative Communication). ClaroCom helps to replace speech for those with impairments in the production of spoken language. ClaroCom is suitable for children or adults with some or full literacy, and can assist users who have limited or no speech and language difficulties.

PRODUCT FEATURES

• Writing
Type into the Message Window using the on-screen keyboard. Press the Speak button to have text in the Message Window spoken. ClaroCom can also speak each word as it is typed or inserted into the Message Window.
Text in the Message Window is spoken using the standard iOS text-to-speech voices. Text in the Message Window can be sent by Message and Mail, as well as copied into other apps.
Use the built in Word Prediction and Phrase Prediction to speed up writing.
Create text using the phrase banks to find a phrase. ClaroCom is loaded with some standard phrases. More phrases can be added and history is stored of what is typed.

• Word Prediction
ClaroCom has built in Word Prediction when typing into the Message Window. ClaroCom's Word Prediction takes account of word frequency and previous words. There is an initial Word Prediction list loaded on startup, and ClaroCom can learn new words as they are typed if desired.

• Phrase Prediction
Use Phrase Prediction when typing into the Message Window. The phrases are loaded from the contents of the visible categories and ClaroCom stores new phrases that are typed or added. The predicted phrases appear on a Phrase bar above the keyboard. Phrases can be easily searched for, and bulk phrases can be easily added.
Prediction works with acronyms, so as 'awn' is typed, 'Are We Nearly There Yet?' appears instantly. This is a very fast way to build up and learn a collection of phrases.
Speak a predicted word or phrase immediately with a 'touch and hold' instead of composing into a message – another faster way to get speech out.

A swipe brings up more phrases and words that can be easily scanned through.

Flexible phrases include fillable prompts so ClaroCom will know, when the 'I would like ___' phrase is selected, that immediately the user will be asked for the word(s) to complete the phrase.

• System Voices
Use any of the voices already installed on your iOS device. The voice can be made to speak faster or slower to suit your needs.

• Font and Color
Change the font size, color or use a more-readable font to maximize ease-of-reading, making ClaroCom easily adaptable to different users' needs.

Upgrade to ClaroCom Pro and get the following extra features:
• Two built-in high-quality (Nuance Expressive) voices
• Add your own custom categories
• Flip display feature - great for communicating by text in loud environments
• Send text to Facebook and Twitter from within ClaroCom Pro
• Add whole phrase lists in bulk using simple text files and iTunes, or paste phrases into the message window and save
• A larger word prediction dictionary
• More color and display settings
• Pinch to zoom - increase/decrease text size with just a pinch
• Add your name in settings and any phrases which contain "[NAME]" will use this name automatically
• Select from a wide range of Nuance Expressive and Acapela voices to purchase in-app

For the latest news, tips and advice follow @ClaroComApp on Twitter.
More Information
Language:

Dutch

English

French

German

Greek

Italian

Japanese

Portuguese

Russian

Spanish

Swedish

Thai

Turkish

More