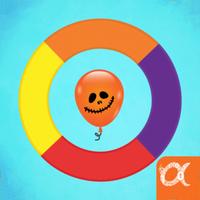 Color Catcher Balloon
Free Get
Screenshots for iPhone
More Screenshots for iPad
Color Catcher Balloon Description
It is a fun-loving, colorful, and one of the best educational color match balloon games to help your children learn and play with alphabets, numbers, characters, shapes, balloons, colors, and more. This learning game is designed to play by both the kids as well as parents. Parents can use this app to teach the young ones in their family while making the learning process easy, quick, and entertaining for them.

The game target is to catch or hit the right colored geometrical shape with the same colored balloon. It has many colorful balloons in shapes of ABCs, 123s, and different characters like the cat, dog, bunny, and lion, etc. The game has fantastic graphics with original sound effects. The game plays on different seasonal themes, including, spring, summer, winter, autumn, and Halloween. Plus, user enjoys unlimited lives to complete a level.

The gameplay of this educational kids balloon game is easy at the start and has only one color band with simple geometry. However, it becomes difficult with the passage of each level as more color bands will be seen there, spinning quickly in different patterns and making this color match balloon challenge game exciting for even adults.

It is easy to play color catcher arcade game for kids, especially for those who love to play kids learning balloon games. It has many levels, colors, music, A-Z balloons, 0-9 balloons, funny and character balloons, and even beach theme to keep your kids engaged and having lots of fun, this summer 2019 and every day. This color balloon game is helpful for preschoolers and kindergartens in recognizing complete English alphabets, basic math numbers (from 0 to 9), shapes and colors, matching with balloons, and many more things.

For the user point of view, this color catcher balloon is infinite-tries game. To make it thrilling and exciting, there are various shapes of balloons like alphabet balloons and number balloons, as well as heart balloons, happy face balloons, star balloons, cat balloon, dog balloon, Halloween balloons, along with sunny beach background, glittering icy theme, ghoulish Halloween background, and more. Users can easily select these special colorful balloons by unlocking them at certain levels or with the coins. Users have unlimited lives for the game.

How to Play

This color catcher balloon learning game is easy to play but requires concentration and calmness as it is a bit tricky to hit the colored shape with a balloon having the same color each time. A spinning color band having different color strips with different geometric alliance comes on the screen at the top side while at the bottom side a balloon with a specific shape (like an alphabet, number, or character) and color will appear. The user can catch the color with the same color balloon by tapping on the screen and in each level by doing so can collect free coins. Plus, by using black boosters, a user can catch any color and complete the level more easily. There are two ways to earn the boosters: you will need to wait for 15 minutes before the new boosters appear, or you can use your coins to buy boosters in the cart section.

How to Collect Free Coins

Users can collect more than 1 free coins in every level and buy different balloons and/or black boosters with those coins easily. Furthermore, users can also get free coins by connecting with Facebook.

Have fun of playing this kids educational, color catcher balloon game, a super-exciting balloon puzzle game targeted at the young minds to learn alphabets, numbers, characters, and color matching and for the older people to beat the loneliness, stress, and leisure time.

Bonus Features:

* New seasonal themes updated in the game.
* Unlimited lives, infinite retries for the players.
* Black Booster – Use this booster to catch any color you want.
* Alphabet and number balloon characters.
* Level mode and endless mode options.
Color Catcher Balloon 1.1.6 Update
Added exciting new features along with challenging Halloween levels.
1 - Halloween Theme
2 - Spooky and scary balloon characters.
Hope you are enjoying playing Color Catcher Balloon, the best Halloween balloon game for kids and all ages.
More