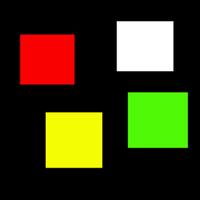 ColorFlex - Memory Test
Free Get
ColorFlex - Memory Test Description
Up for a challenge? Good, because this ones tough, really tough, can you get past sequence 6? Remember the sequence of colours and click the blocks in the correct order, it's that simple, but can you be the best? Find out with the global leaderboard!

Tweet me a picture of your high score or let me know about any requests or queries that you might have as well, I would love to hear your feedback.

Twitter: @Tvtig

I'm constantly working on this app and have lots of cool ideas that I will be working on, watch this space!

Things I'm working on for the next release:
- Achievements
- Power-ups
- New game mode
ColorFlex - Memory Test 2.2 Update
- Added a wicked splash screen (Well i think its cool anyway).
- Added some interesting messages once the game has ended.
- Added lives to games, now you have the ability to fail three times before the game ends.
- General bug fixes.
- Reporting of game history has been added, this will support future functionality.
- Added support for achievements.
- Tracking of stars earned is happening in the background, they will be used in future versions to unlock additional game modes.
- Changed the name back to the American spelling, makes it easier to find apparently :/.
More