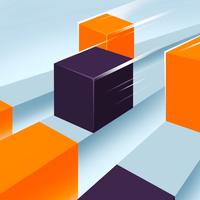 Cube Pack - Lane without Balls
Not Available
Removed
from the App Store
Screenshots for iPhone
More Screenshots for iPad
Cube Pack - Lane without Balls Description
Get ready to check your attention and control some cubes. There are no place for balls, so check your multitask skills in our new app. You have a pack of cubes moving towards lines and many obstacles on their lines. Show everyone your multitask skills and lead cubes through the obstacles. Many balls and bricks are staying on the lines of your cubes. But you have a pack of cubes, so start from two lines and each special level their number will grow. Use your multitasking skills, track each line and when your cube comes to an obstacle: it can be ball, bricks or just a small pit, tap on the line to jump over the obstacle. Gather your multitask skills and control the pack of cubes in our new simulator: Cube Pack – Lane without Balls.

In this simulator without balls, you have to gather you multitasking skills and control the pack of cubes. Your cubes will definitely meet bricks and balls on their way, so tap the needed line to evade the obstacle and jump over it. When you pass each special level, we will add an extra line to your pack to make the game a little harder. Show everyone that your multitasking skills are high and track every line in your pack. Jump over every bricks, ball or small pit to lead your pack of cubes to the end of the level. Pass every level in the game to prove everyone that multitasking is an easy thing for you. Share this game with your friends and find out whose multitasking skills are better. You can always train your multitasking skills by tracking pack of cubes on the lines in our new simulator.

Cube Pack – Lane without Balls is a free to play simulator, which will help you train your multi task skills. Control pack of cubes. Track lines, on which your cubes are moving and tap on the line to evade obstacles like bricks and balls. Do not forget that with each special level one line will be added to your pack of lines. There are no place for balls in this simulator, so lead your cube to the end of a level and pass every level to show everyone that you have the highest multitasking skills. Call your friends, and together compete in our new multitasking simulator. Download our new simulator without balls and train your multitasking skills with our pack of cubes. Can you track every line from your pack?