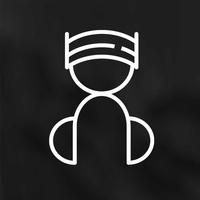 Curler - Your HTTP API's interface
Free Get
Curler - Your HTTP API's interface Description
Curler allows you to build and manage an interface for your HTTP APIs or web hooks.

Many devices can be controlled with HTTP commands, such as home automation, switches, cameras, thermostats, servers, and the whole ocean of connected devices.

Scenes will allow you to organize your actions in different screens. For example, you might want to have a scene to manage your Home automation system, another to manage a list of servers, etc.
Curler supports any HTTP method (GET, POST, PUT, PATCH, DELETE, etc), and also allows the addition of custom POST data and headers.

Create scenes, give them actions and a color theme, link them to an url, and choose the perfect icon. The possibilities are endless.

People use Curler mainly for DIY home automation. Raspberry PI or Arduino small http servers can be used as a great entry point for a complete DIY setup. This app will allow you to manage it all !
Curler - Your HTTP API's interface 1.1.1 Update
· Disables annoying autocorrect on every input
· Bug fixes
More
More Information
In-App Purchases:

Full version. Unlimited scenes and actions. $0.99

More