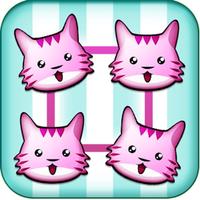 Cute Connect
Free Get
Screenshots for iPhone
More Screenshots for iPad
Cute Connect Description
Cute Connect is a free puzzle game for kids, woman or puzzle player who loves the cute game.
The game has 40 levels which many challenges. You not easy to win all of them in only one try. Improve your skill in each match to get high and higher score.

How to play Cute Connect?
- You need to find a pair image. Click on them to make a flow. Note that each flow much lest than 4 lines.
- Level 1: easy game. Image not move. You just need to find and connect them to get scores.
- From level 2: You must think carefully because the title move follows some rule: left, right, top, down ... Try to avoid the stuck. If not you will lose one life.
- Easy mode: level 1-> 10
- Medium mode: level 11->20
- Hard mode: level 21->30
- Super hard mode: level 31->40

Very hard to win the game but very fun when you conquest all game levels. Like every game for kids, Cute Connect has super lovely graphic about friendly animals. You can play every time, everywhere. Which good effect and sound game bring you a good time for relaxing.

The game very famous in Vietnam, Thailand, Indonesia, Japan, Korean... some player call it is One net connect, Mahjong... But we love to call it is Cute Connect. We hope that you - player find more fun when playing it. Every comment or rating are welcome. We love to hear from you to improve more and more to make it better and better for you.

Enjoy the game.