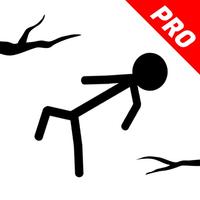 DeadDoll Pro
$0.99
DeadDoll Pro Description
***NO ADS***

This game is not like the rest... It's hard and entertaining at the same time. Going to the toilet? Need something to ease your mind? Take this with you, you won't regret it.

What's the game about?

It's simple and addicting, guide the falling stickman by tilting your phone and try to avoid obstacles. You can loose a limb though before dying, but only one. Oh, and the ragdoll physics only makes things more fun.
DeadDoll Pro 1.1 Update
Fixed a bug causing the controls to be unresponsive.
More