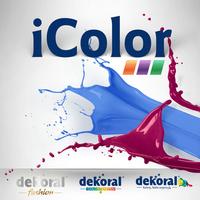 Dekoral iColor
Free Get
Dekoral iColor Description
Aplikacja iColor Dekoral umożliwia wirtualne rozpoznawanie oraz wizualizację na wybranych wnętrzach kolorów z palety Dekoral i Dekoral Fashion.
Program pomocny będzie wszystkim planującym malowanie swoich wnętrz a także architektom wnętrz, developerom i wykonawcom.

Jeśli spodobał Ci się jakiś kolor , zrób zdjęcie, a iColor zidentyfikuje go, bazując na paletach farb Dekoral i Dekoral Fashion. Aplikacja pomoże Ci również w znalezieniu odpowiednich odcieni kontrastujących lub harmonijnie łączących się z wybranym kolorem. Wystarczy, że dodasz kolory, na które się zdecydowałeś do ulubionych i już możesz rozpoczynać zabawę!
Aplikacja iColor umożliwia wirtualne malowanie na wcześniej wykonanym zdjęciu lub w "czasie rzeczywistym" – program wykona "zrzut ekranu" powierzchni i naniesie na nią wybrany kolor. Wszystko co musisz zrobić, to nanieść krzyżyk na miejsce, które chcesz pomalować lub przytrzymać znacznik trybu malowania w "czasie rzeczywistym" na linii sufit-ściana.
Dzięki iColor możliwe jest także sprawdzenie, jaka ilość farby będzie potrzebna do pomalowania naszego pomieszczenia (umożliwia to wbudowany w program kalkulator), a także szybkie znalezienie sklepu w Twojej okolicy, w którym będziesz mógł nabyć produkty w wybranych kolorach.

Zapraszamy do wirtualnego malowania!