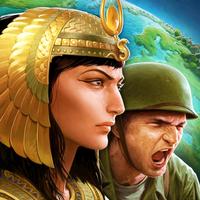 DomiNations
Free Get
Screenshots for iPhone
More Screenshots for iPad
DomiNations Description
Battle nations from throughout history in DomiNations! Build your empire and command nations as you make them grow from a small village to a thriving metropolis, and battle as one of the great civilizations from the history of the world.

Build a nation, starting as an early settlement and grow through the ages, from the dawn of history to the modern era. Study under history's greats at the University like Leonardo Da Vinci and Catherine the Great. Build Wonders of the World and create technology with historically accurate advancements.

Choose from eight nations and embark on historic campaigns advancing through history. Each civilization, from the Romans to the Japanese, has a special strength and unique units. Build your army then test your historic might against other players in PvP combat, or form alliances to conquer the world together.

Build your empire and embark on a historical journey of conquest! Download DomiNations today!

DOMINATIONS FEATURES:

GREAT LEADERS!
• At the new University, consult Leonardo Da Vinci, Catherine the Great, King Sejong and other historic thought leaders.
• Strengthen your Nation with the best war strategy!

BRAND NEW EVENTS!
• Accomplish fun limited-time goals based on actual events from history.
• Collect rare rewards to help your Nation advance so they can conquer the world!

FROM THE STONE AGE TO THE SPACE AGE
• Lead a colony of early hunters and gatherers on their conquest through the ages from the dawn of civilization to the modern era.
• Design a small civilization and grow it into a thriving metropolis.
• Build historic Wonders of the World, including famous landmarks like the Pyramids of Egypt and the Roman Colosseum.

CHOOSE YOUR NATION AND LEAD AN ARMY
• Battle as of one of 8 fearsome Nations on its journey through time.
• Choose one of the great civilizations from history like the Romans, British, Chinese, French, Germans, Japanese, Koreans and Greeks.
• Tackle historic battle campaigns to collect important resources and upgrade your city as you advance through history!
• Each civilization has a special strength to help you build unique units.
• Battle through history and advance your city, like longbowmen, vandals, and the mighty samurai!

DISCOVER NEW TECHNOLOGIES
• Legendary game designer Brian Reynolds brings history to life in every era as key advancements from each period in history will help you progress your epic civilization!
• Research each civilization, new materials, invent advanced weaponry, and develop trade to grow a bustling economy.
• Through scientific discovery, strengthen your troops with better equipment, upgrade your buildings and town center with modern materials.
• Create a war strategy to bolster your defenses as you grow stronger.

FORM AN ALLIANCE AND WAGE WORLD WAR
• Put your powerful Nation to the ultimate test in PvP combat and raid your enemies' cities for huge bunches of loot!
• Battle for crucial resources, untold wealth, and total world domination.
• Team up with other skilled rulers and forge an unstoppable Alliance.
• Unleash the full force of your armies with a unique battle strategy to outwit and outlast your opponents in 50-on-50 Alliance warfare.
• Conquer the globe in World War and take home the spoils of war!

Build one of history's greatest civilizations and develop a battle strategy to conquer opponents. Join an alliance and achieve world domination in DomiNations!

Download now to start building your civilization!

Privacy Policy:
https://www.nexonm.com/privacy-policy/

Terms of Service:
https://www.nexonm.com/terms-of-use/
DomiNations 7.740.741 Update
Six Momentous Years: 1939-1945 v7.4
New Events!
• Complete a wide variety of Goals to earn exciting rewards as you play through the greatest moments in history!
• New Goals will be added each day throughout the event.
• Earn your place on the event Leaderboards.
• Unlock additional rewards with the Event Pass!
Plus, upgrade to new Space Age levels of the Air Defense, Missile Silo, Rocket Arsenal, and Shipyard.
More