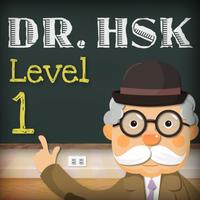 Dr. HSK 1
Free Get
Dr. HSK 1 Description
Want to pass the new HSK test but don't know how to do? Don't worry! Here comes Dr. HSK, this app can give you the best guidance whenever you encounter problems.

The new HSK test (Hanyu Shuiping Kaoshi) is the standardized test of Mandarin Chinese proficiency for non-native speakers. If you have already made up your mind to pass the new HSK test, this app is the best choice that you can let yourself become well prepared!

Dr. HSK is divided into two parts --Test and Word Bank:
1)Test: You can use "Practice Test" to get the basic idea of directions of questions, and practicing each parts respectively. "Mock Test" simulates the real situation of the new HSK test, requiring you to answer all questions in a limited time. "Detailed Answer" provides detailed explanations of each question, helping clarify your confused parts.
2)Word Bank: There are essential Chinese vocabulary for new the new HSK test and all the vocabulary are arranged in frequency. You can review by list or flash card.

This app has the following features:
★First app to combine vocabulary review and mock test
★Simulating a real test
★Storing current achieved progress any time
★Recording historical grades in the form of a pie chart
★Providing clear and detailed explanations for each question
★Arranging all the vocabulary in frequency
★Free to choose vocabulary's order : Frequency Order/ Pinyin Order/ English Order
★Establishing your own vocabulary database
★Three searching functions- Chinese Characters, Pinyin, English

Before taking the new HSK test, remember to use this app, you would be so surprised how high a score you would get!!!