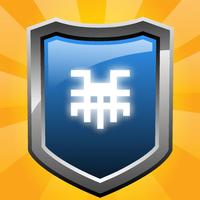 Drone Invaders
$1.99
Screenshots for iPhone
More Screenshots for iPad
Drone Invaders Description
SHOOT!
RELOAD!
SURVIVE the Drone Invasion.

You're in control of a laser gun turret, the last defense against incoming invasion of alien drones.

• destroy 20+ different alien types
• face many challenging attack formations
• defeat 14 unique boss spaceships every 10 levels
• enhance your weapons and shields
• pick up random powerups during play
• upgrade powerups to last longer
• complete missions to upgrade faster

You can play the game in short bursts and achieve long term goals.

• daily challenges every 24 hours
• weekly challenges with great rewards
• mission packs without time limits
• permanent weapon and shield upgrades persist between plays
• level up the player rank by completing specific goals

Perfect arcade to play on the go! The rules are simple:

• Tap on the screen to fire the laser in that direction.
• Tap directly on the enemy for a direct shot.
• Swipe up to raise shields!
• No enemy should pass you by!

Use the shields for additional protection in case you are overwhelmed with enemy waves.

Regular drones can be destroyed with a single shot. Every 10 levels, a Boss shows up, which requires 20 or more hits to destroy. You can upgrade lasers to deal more damage to Boss drones. Starting with wave 50, some bosses after have special behaviour when you hit them. Shoot carefully to see it.

On your journey through space, a Moon or another celestial body might show up, and drones will use it to hide. Those obstacles can be destroyed by atomic bombs. As your shots fly over it, you can still shoot the enemies above it.
Drone Invaders 1.1 Update
- support for new iOS versions and devices
More