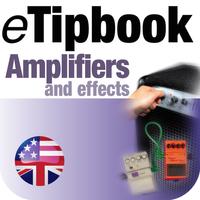 eTipbook Amplifiers and Effects
Free Get
eTipbook Amplifiers and Effects Description
FREE DOWNLOAD OF THE FULL VERSION of eTipbook Amplifiers and Effects (300+ pages)!
A highly informative guide for musicians at all levels, telling you everything you should know to make an informed purchase and get the best out of amplifiers and effects, microphones and pickups, sound systems, cables and wireless systems. Technical information, presented in a non-technical way, for guitarists, vocalists, bassists, and all other musicians.

BEGINNERS AND PROS
Based on the combined knowledge and experience of thirty plus musicians and amp experts, eTipbook Amps and effects even answers questions you didn't think of asking. Great stuff for beginners, an inspiring resource for advanced players, and a handy reference for pros.

INDEX AND TIPCODES
The free preview offers the full seven-page index, showing you in detail what the book is all about – and the Tipcodes in the book even allow you to hear what you're reading!

PRESS QUOTES
Another extremely comprehensive Tipbook, providing exactly the right amount of information on every conceivable topic. (Music Maker)

Written in a concise, yet accessible and in-depth form, the book offers lots of information in a handy portable package. It works well for teachers, beginner and intermediate students, even specialists in guitar amplification. (Vintage Guitar Magazine)

Tipbook Amplifiers and Effects would seem to be a book written exclusively for electric guitarists, but it ain't. Sure, it has all the electric-guitar info you would expect, but it also has chapters on acoustics amps, P.A. systems, mics and pickups, and effect processors, all of which apply to the acoustic. Topics such as acoustic-amp speakers, phase relationships, feedback, and amp testing are all covered. A ton of info, and there's a little something for everyone! (Frets)

Comprehensive approach; easy-to-follow layout makes these Tipbooks a joy to read. (Music Trades)

READER RECOMMENDATIONS
Dear Tipbook Authors, thank you for an excellent book! I thoroughly enjoyed it: from the easy to understand explanations, to the multitude of detailed drawings, to the audio effects that I could access through the internet. Your book is great for beginners, as well as experts who would like to refresh their knowledge or would like additional in-depth information. (George K., engineer)

The book is useful and informative and every musician needs to have a such a book in his library. (Krist)

SUBJECTS
Tipbook Amplifiers and effects tells you about A/B boxes, active EQs, AFL controls, alnico verses ceramic and other speaker magnets, ambient effects, amplitude modulation, audio interfaces, aux inputs, backplates, bit depth, British and American amps, cab emulation, cardioid patterns, channel faders, compressors and chorus effects, combo amps, courtesy outlets, de-essers, digital effects, diversity and non-diversity, ducking, dynamic microphones, expression pedals, fixed-bias amps and full stacks, ground lift switches and hard knee settings, hum and hybrid amps, integrated amplifiers, latching switches, master effects, modeling amps, multi-effects units, nominal levels and notch filters, octavers and ohms, panners and parallel loops, parametric equalizers, passive and active DI boxes, point-to-point wiring, preamps, rack equipment, reverb units, serial loops, slanted cabs, speaker emulation, standing waves, transients, tube amps, unbalanced connections, wahs and watts, XLR plugs, Y-cables, and more.
eTipbook Amplifiers and Effects 5 Update
All eTipbooks now come as universal apps, so you can read your Tipbook on iPad, iPhone and iPod Touch!
Minimum requirements: iOS8, iPad 2 (or higher), iPhone 4S (or higher), iPod Touch (>5).
For best viewing experience we recommend to use the iPad or iPhone 6 / 6 Plus or higher.
More
More Information
Language:

English

French

More